The Books
Novels by Michael Carlon
Stories with the depth of Jonathan Tropper, the humor of Carl Hiaasen, and the escapism of a Jimmy Buffett song.
Audiobook Excerpt
All the F*cks I Cannot Give
Kelly Carson is one of those 'Clark Kent' like guys who just can't stand up for himself. His wife doesn't love him, his boss doesn't respect him, and his father refers to Kelly's twin sister as the son he always wanted. With three weeks to go before Christmas, Kelly receives the shock of his life when he's fired over the telephone while waiting to catch a flight home and begins an adventure that will change his life.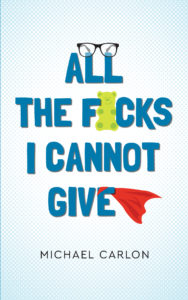 Stay Connected to Get The Latest Book Alerts