Winning Streak
At twenty-nine, Patrick "Trick" Evans has just accomplished what no golfer since 1930 has been able to do, win all four of golf's major championships in the same calendar year. There's no doubt that he's the sporting world's newest superstar but he walks away from it all after the sudden death of his father and retreats to his secluded home in Chatham, Massachusetts.
Casper Quinlan is helping her father reinvent his magazine, Fore!, to have a place in the digital age. As part of her new job, she accepts the challenge to land an interview with the reclusive Trick Evans. While she has recovered physically from the car accident that took her leg fifteen years prior, she's been unable to sustain a long term romantic relationship and finds it impossible to believe anyone will truly love her because of her handicap.
Robert McMullen has not been to Chatham since his teenage daughter's death three decades ago. Recently widowed, he returns to Chatham to grant his wife's dying wish, to be buried with a necklace that their late daughter gave her for Mother's Day over four decades ago. Along the way he comes to realize that his late wife may have had ulterior motives for sending him back to the town where their daughter died.
Winning Streak is the story of how these three lives intersect and how each comes to learn critical lessons in order to heal from the pain of loss in their lives. Readers will be taken on an emotional journey full of laughter and tears while enjoying this novel which is reminiscent of Nicholas Sparks and Mitch Albom.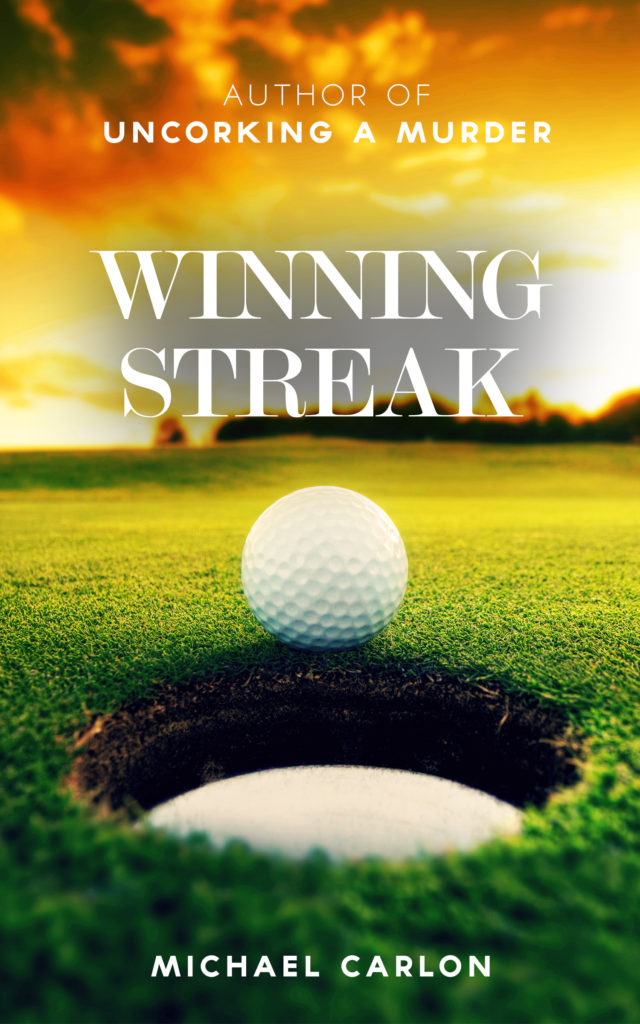 Amazon Review
A book that is a nice read on how to move on after a setback, forgive and starting living again all in the setting of golf writing and family and friends. I won this book from Goodreads and I recommend it.
Amazon Review
This was a fun read that I burned through in two days! I enjoyed all the sports and music tie-ins and also the fact that while I suppose it IS a romance, it was actually more about hope after loss and how these characters disconnect and connect through their lives.
Amazon Review
A book everyone should read. This book made you think about all the interworkings of family, friends and life. Everybody would receive something from this book. Makes one think about life now, in the past and the after life.
Trick Evans
The world's #1 golfer who walks away from the game after the sudden death of his father.
Robert McMullen
Recent widower looking to grant his late wife's dying wish.
Blaze Hazelwood
Actor renting Robert McMullen's home in Chatham, MA.
Casper Quinlan
A journalist looking to capture Trick's story. 
Fr. Paul Hewson
Trick's parish priest who looks to set him up with Casper.
Angel
Hospice nurse taking care of Robert's wife Madeline, who is dying of cancer.
Chapter 1
Sudden Death
August 2015
Professional golf isn't like other professional sports. There are no contracts; competitors earn their income in prize money. Whereas professional baseball players or football players can sit on the bench for a season and earn millions, with golf a player has to place in a tournament in order to collect a check. If a golfer doesn't make the cut, the tournament doesn't cut you a check—it's that simple. Statistically speaking, only a very small percentage of professionals make their living by playing the game; those who do are the best of the best.
While professional tournaments are played throughout the year, there are four that stand out: the Masters, the US Open, the Open Championship, and the PGA Championship. In the world of professional golf, these four tournaments are known as golf's majors, and winning all four in the same calendar year is known as winning golf's Grand Slam—a feat no professional golfer had accomplished since 1930. The closest player to do so in the modern era of the game was Tiger Woods when, in 2001, he held all four of golf's major titles simultaneously, but he had not won them in the same calendar year.
This fact was certainly on Patrick "Trick" Evans' mind as he lined up his tee shot on the eighteenth hole of Sterling Hills Golf Course in Kohler, Wisconsin. Having won The Masters, the US Open, and the Open Championship earlier in the season, winning the PGA Championship didn't just mean making history—he had already done that by winning three majors in the same year—it meant being immortalized in the game he loved.
The road to golf immortality, though, would not be a cakewalk. Challenging his lead was twenty-four-year-old Thomas Andrews who was only one stroke behind Trick coming into the eighteenth hole. Trick knew that anything could happen on this last hole and paused his setup to go confer with his caddie with whom he shared the same last name.
Dave Evans had been by his son's side throughout his amateur and professional career. Once a carpenter in a small resort town on Cape Cod, Dave put his business aside to carry the bag for his son; but he was more than just a caddie, he was his son's counselor. Trick's peers on the PGA Tour referred to Dave as his son's consigliere and gave him the nickname Hagan, after the character Tom Hagan in the movie The Godfather. Like Dave Evans, Tom Hagan was of Irish descent; a fact that helped the nickname catch on.
Trick removed his hat, freeing his long hair from the cap that had been hiding it all day long. He placed it over his mouth, not wanting the cameras to focus on it lest he wind up on a future episode of Bad Lip Reading.
"I'm nervous, Dad."
"Remember to breathe, son," Dave said, putting his arm around Trick. "With any luck this will be over in three or four more strokes. Just go up to that ball, close your eyes, picture yourself making a perfect shot, and then swing away. You've got this."
With the counseling session over, Trick did as his father advised. He swung his club and put the ball in the center of the fairway; far enough away that he would only need one more shot to make it onto the green. He breathed a sigh of relief, and the gallery that was watching him erupted in deafening applause.
Thomas Andrews placed his ball between the two blue markers on the eighteenth tee box, pointing with his driver down the center of the green as if he were golf's Babe Ruth. In a much less dramatic fashion than Trick Evans, he swung at the ball and watched it sail straight down the fairway and outdrive his opponent's by twenty yards. No, this last hole would certainly not be a cakewalk; at this level of play, anything could happen.
The two golfers and their caddies walked off the tee box toward their second shots. They were followed by a few network cameramen and an army of spectators who hoped to be on the cusp of seeing history in the making. It was almost as though Trick were Moses and they were following him across the newly parted Red Sea.
Those watching at home would have heard the banter between commentators Larry Charles and Pepper Michaels in the announcer's booth perched high above the eighteenth green. "What we may witness here will be talked about for decades to come," Pepper said in her hoarse voice as she watched Trick walk up the fairway; she was still new to the broadcasting business having retired from the LPGA tour last season and had yet to learn to speak from her diaphragm rather than her throat. After four days in the announcer's booth, Larry joked that his broadcasting partner sounded more like one of Marge Simpson's sisters than a professional announcer.
"You are so right, Pepper," Larry said in his soft and seductive Scottish accent as they watched Trick line up his second shot. "But Andrews isn't going down without a fight. If Trick doesn't execute perfectly, we may wind up in sudden death." If the match ended in a tie, the two would go hole for hole until one opponent beat the other. In the golfing world, this is known as sudden death.
Trick forced the prospect of sudden death to the back of his mind as he lined up his second shot; he wanted to end it on the eighteenth and make history. At a hundred yards from the green, he accepted the pitching wedge his father advised him to use. Having played this hole for the previous three days, Trick knew that, like his competitor, it wasn't going to be taken without a fight; the green was protected by sand traps on all sides. Trick tried to focus on the flag sticking out of the ground in the upper right area of the green rather than on the traps surrounding it.
"Just breathe," he whispered to himself.
Trick swung his club but knew right away something went wrong. His stroke didn't feel right and he, the thousands in attendance, and the millions viewing at home watched as his ball sailed into the sand trap on the right side of the green. The gallery erupted in a loud "Ohhh…"
Thomas Andrews, meanwhile, hit his ball and watched it land three feet from the hole, leaving him an easy putt for birdie. Sudden death, it seemed, was imminent; Trick would need a miracle to prevent a playoff.
"Don't think about it too much," his father said as they walked toward the sand trap. "What have I always taught you?"
"Overthinking leads to mistakes. Trust my gut."
"That's right. Remember, nice and easy does it. Have a little faith—you've got this."
Thomas Andrews marked his ball on the green, and Trick lined up his shot from the trap. Trick was positioned so far below the hole that he could only see the top of the flag waving above him. With his heart pounding in his chest, he took a deep breath to calm his nerves and drew his club back.
Those watching from the other side of the green saw a bunch of sand fly up over the lip of the trap with a little white ball trailing behind. The ball hit the green and rolled toward the hole; Trick couldn't see what happened next, but he could certainly hear it. The ball rolled directly into the hole, giving Trick another birdie and a two-stroke lead over Andrews. At this point, his victory was sealed—there was no way Andrews could beat him. His opponent placed his ball on his marker, made his three-foot putt for birdie, and waited for Trick to make it onto the green so he could shake his hand, as is customary at the end of a match.
The gallery watching the match stormed the green in a fit of excitement. Peter Hogan, the network's announcer covering the match from the field, was eager to interview professional golf's first Grand Slam winner in eighty-five years, but he had a hard time getting close to Trick for an interview given the chaos that erupted around the green. When he and his cameraman were able to cut through the crowd, Peter said, "What an unbelievable day for you—what an unbelievable year for you! Trick, tell us all how you are feeling right now."
"I really can't put it into words," Trick said, looking at the announcer; his hazel eyes, more green than brown that day, started to tear up. He was practically in a state of shock and visibly trembling. "I can tell you one thing," he said as he regained his composure, "if I didn't have this guy in my corner, I wouldn't be here."
"Who is that?" Peter asked.
Trick turned around, looking for his father. "My father and caddie, Dave Evans. Dad, where are you?" Trick asked loudly. The cameraman panned his camera but could not spot Trick's caddy anywhere; too many people had stormed the green.
In the excitement of everything that had just happened, no one noticed Dave grabbing his chest after the two golfers shook hands. His heart had been giving him trouble periodically throughout the season, and his doctor had warned him to avoid sudden excitement. He joined his son this week at the PGA Championship against his doctor's wishes, a fact that he hid from Trick, because he knew that his son would play better if he carried the bag. It was a choice that would prove to be fatal.
For those viewing at home, Pepper broke the silence from the announcer's booth; perched high up over the green, she spotted Dave lying on the ground near the fringe. "Peter, it looks as if Dave Evans fell down and is clutching his chest. You may want to get over there quickly."
Trick noticed Peter's attention diverted and saw his father lying on the edge of the green.
"Dad!" Trick screamed, running to his father's side. While he was running at top speed, time seemed to slow down as he approached his father.
"We need a doctor!" Trick yelled, and then looked into his father's eyes while supporting his head. At that moment Trick no longer heard the roar of the crowd and, for a short few seconds, it felt as if he were alone with his father instead of surrounded by thousands of spectators.
"I am so proud of you, son," his father said weakly.
"Stay with me, Dad; don't go anywhere on me." Trick's own heart was beating overtime.
"I think it's my time, son… I can't control it."
"Where the hell is the medic?" Trick screamed, and then saw a team of medics approaching the green with a stretcher. It was too late, however; Dave Evans had already passed from this life to the next on the eighteenth green at the Sterling Hills Country Club in Kohler, Wisconsin, three weeks before Labor Day.
Trick felt as if he were watching from another person's point of view as the medics tried to revive his father using CPR and a defibrillator. He felt confused, as if he were in a dream on the cusp of waking up.
But it wasn't a dream. Trick Evans had just watched his father die on what should have been the happiest day of his life; immortality, it seemed, came at a steep price. Later that evening, enveloped in a fog of shock and grief, Patrick "Trick" Evans, the first player of the modern era to complete professional golf's Grand Slam, silently vowed never to play the game again.
Don't judge a book by its cover. Winning Streak isn't about golf—it's about second chances, forgiveness, and acceptance. 
Michael Carlon is marketing professional, author, and the host of the Uncorking a Story podcast which features depth interviews with A-List authors as well as personal, motivating reflections from conversations Mike has had with the people he meets. He's the author of the successful Farrah Graham series of books as well as stand alone novels inlcuding Return to Casa Grande, Winning Streak, and the hilarious All the F*cks I Cannot Give.
When he is not writing a novel, a magazine article, or a piece for his local newspaper, Mike earns his living as a marketing consultant traveling around the country interviewing people about their experiences with and attitudes towards his clients' products and services. He is an expert at understanding what makes people tick and translating those insights into intelligence his clients can use to make better decisions.
Mike lives in Stamford, CT with his wife Nicole and their college-aged triplets Grace, Patrick, and Maggie. He holds a BA in Psychology from the University of Connecticut and an MBA with a concentration in marketing from Fairfield University.