all the f*cks I cannot give
Mild mannered marketing man Kelly Carlon learns how not giving a fuck can be the path to self enlightenment.
Kelly Carson is one of those Clark Kent-like guys who just can't stand up for himself. His wife doesn't love him, his boss doesn't respect him, and his father refers to Kelly's twin sister as the son he always wanted. With three weeks to go before Christmas, Kelly receives the shock of his life when he's fired over the telephone while waiting to catch a flight.
Terri Flynn, a free-spirited starlet who is running away to New York after walking off the set of her latest feature film, overhears Kelly's unceremonious firing and becomes hell-bent on transforming him from the Clark Kent he is into the Superman the impulsive actress feels he's destined to become.
After their flight to New York is cancelled, Kelly and Terri take a last-minute jaunt to Hawaii, putting in motion a series of hilarious events and misadventures that will have you belly laughing throughout.
From the beaches of Maui to the concrete jungle of New York and the underground swinger scene of suburban Chicago, Michael Carlon's fifth novel, All the F*cks I Cannot Give, will have wishing you were in Kelly Carson's shoes for just one day.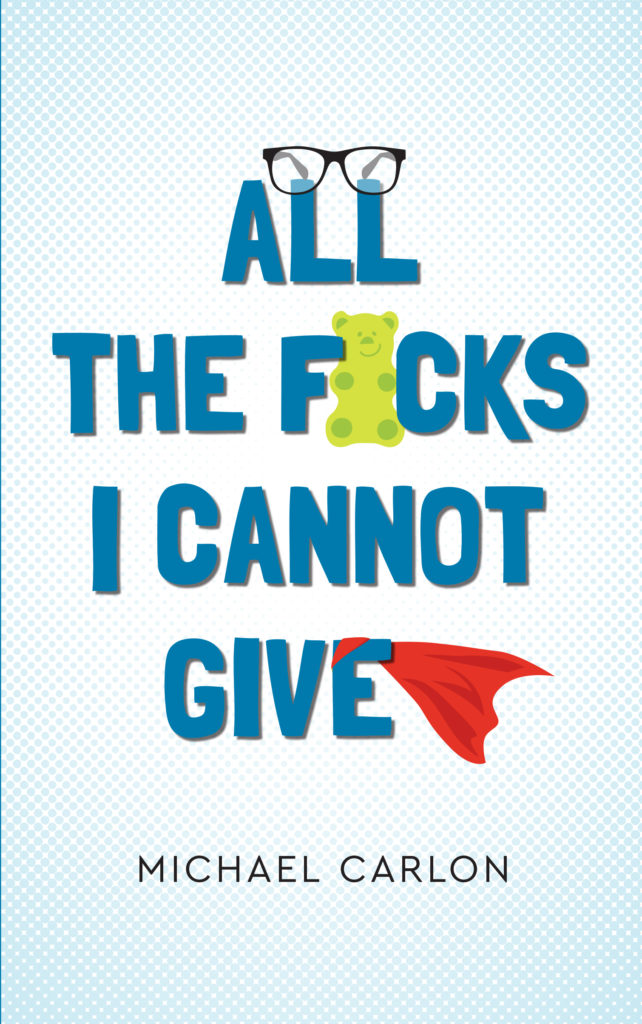 Kelly Carson
A marketing consultant in a loveless marriage who decides to take a last-minute trip to Hawaii after being fired over the telephone.
Jo Carson
Kelly's twin sister and best friend. She's always in his corner.
Laura Carson
Kelly's wife. After catching her having an affair with another woman, Kelly agrees to stay married to her out of convenience.
Terri Flynn
A fiery starlet who walks off the set of a feature film and is hellbent on transforming him from Clark Kent into superman.
Pete Jackson
Kelly's spineless boss who fires him over the phone.
Michele Stahl
Kelly's former mentor who now runs an addiction recovery center in Hawaii.
Chapter 1
Confrontation isn't my strong suit.
One might think the worst day in a man's life might be when he finds his wife in bed with another person, but I knew my wife Laura was a lesbian very early into our marriage. No, she didn't have the telltale ring of keys clamped to one of her belt loops by a carabiner, nor did she ever come out and admit, "Kelly, I'm really not into dudes." Come to think of it, the fact that my parents gave me a woman's name may have been what attracted her to me in the first place (apologies for the digression). No, I knew my wife was a lesbian because my twin sister, Josephine—who everybody calls Jo—spotted her in a gay bar shortly after we returned home from our honeymoon ten years ago. FYI, Jo is a lesbian and my father considers her the son he never had. She's also my best friend.
At first, I didn't believe her because the initial photographic evidence of Laura chatting with another woman at a bar appeared innocent. Sure, it was clear she was at our town's lesbian bar—The Meow Mix—because the name is plastered all over the wall and was captured in every still image Jo sent me. Oddly, all the women were dressed as Schneider from One Day at a Time for an event called Pat Harrington Night. So what? I thought to myself. I've heard that oftentimes women feel more comfortable at those places than straight bars because they don't get hit on as much.
When Jo showed me the picture of my wife tongue kissing a woman who resembled Nancy McKeon from The Facts of Life, I chalked it up to Laura being a bit curious. I didn't confront her about it because, by nature, I hate confrontation. Nothing scares me more than causing conflict—so I tried to forget about it and buried it. Denial is my absolute favorite defense mechanism.
When I caught Laura in the act with my eyes, that was different. It was on a day I came home from a business trip early. Instead of taking the early morning flight from San Diego to NY, I decided to take a red-eye so I could get to our suburban Connecticut home early as a surprise to my wife. She was surprised alright, especially when I walked in on her and our handywoman Ella doing more than just playing doctor in our bed; the back of my wife's head resembled a bear fishing for salmon swimming upstream.
A more aggressive man would have offered to join them, but part of being non-confrontational means I'm also not the least bit aggressive—I simply coughed loudly to make my presence known. Ella opened her eyes and stared at me with a look of shock on her face. Laura unburied her face from between her girlfriend's thighs thus ending the gynecological exam, turned around and simply said, "Oh fuck." She then rolled over, pulled our sheets over the two of them, and reached for the pack of cigarettes on our cherry wood nightstand.
At the time I wanted to say something other than, "Since when do you smoke?" but that was the only phrase I could muster.
"I didn't expect you until later," Laura said while maintaining eye contact and exhaling a plume of smoke through her nose.
"I wanted to surprise you, so I took the red-eye."
"I told you never to take the red-eye since you're always grumpy when you don't get enough sleep."
"Apparently that's not the only reason," I muttered under my breath.
I remember turning around so Ella could get dressed with some degree of privacy. After she left the room, Laura confirmed what my sister had been telling me all along—she is, in fact, drumroll please, a lesbian and only married me to appease her conservative parents who loved that their wild child of a daughter was settling down with a white-collar guy who had a good job; it certainly explained why we were on the quarterly plan when it came to sex! Incidentally, that was supposed to be a night of matrimonial congress, but congress decided to take a ten-year hiatus—that's right, I have not had sex with another human being in ten years.
I remember being more shocked than angry and, since we've already established that I have a hard time dealing with conflict, I agreed to Laura's proposition that we live in an open marriage, which we've done for the past decade. She argued that it would give us the best of both worlds: the freedom to explore other people and the appearance of living a normal life, which would appease both of our families. Ever since then, I've buried myself in work and focused on my career and not chasing some serious tail. I can't say the same for Laura, who chose to bury herself in beaver like a fat man at a Las Vegas buffet.
So, while that was a pretty shitty day for Kelly Carson, that's me if you haven't guessed, it wasn't the worst day of my life. No, that would be today, the day my spineless boss fired me…over the telephone.
All the F*cks I Cannot Give has been described as a self-help book disguised as a novel. It's ultimately about personal transformation and how it's never too late to take control of one's life.
Michael Carlon is marketing professional, author, and the host of the Uncorking a Story podcast which features depth interviews with A-List authors as well as personal, motivating reflections from conversations Mike has had with the people he meets. He's the author of the successful Farrah Graham series of books as well as stand alone novels inlcuding Return to Casa Grande, Winning Streak, and the hilarious All the F*cks I Cannot Give.
When he is not writing a novel, a magazine article, or a piece for his local newspaper, Mike earns his living as a marketing consultant traveling around the country interviewing people about their experiences with and attitudes towards his clients' products and services. He is an expert at understanding what makes people tick and translating those insights into intelligence his clients can use to make better decisions.
Mike lives in Stamford, CT with his wife Nicole and their college-aged triplets Grace, Patrick, and Maggie. He holds a BA in Psychology from the University of Connecticut and an MBA with a concentration in marketing from Fairfield University.