Return to Casa Grande
A washed up 80s soap star is thrust back into the spotlight after an accidental appearance on a hit reality show.
Blaze Hazelwood is a former "household name" actor searching for relevance in an entertainment environment that is remarkably different from what it was in his heyday.
Blaze was the breakout star of Casa Grande, a 1980s primetime soap beloved by millions. Twenty-five years after the show's finale, the rest of the cast is struggling to get by but Blaze manages to stay busy doing voiceover work as well as participating in marketing focus groups taking on different personas to continually "build his chops." Blaze loathes reality TV; for he truly believes that it represents everything wrong with the entertainment industry – and quite possibly the world – today.
Harvard educated Allison Hart, meanwhile, has a hit on her hands with Bling it on Featuring T-Bang – a "celebreality" show crafted around Hollywood "bad-boy" Thaddeus Stevens. The show's popularity doubled the sales of a sponsor's product and she has been approached to repeat its success for a product line geared towards women in an age group who still romance over Blaze Hazelwood and Casa Grande.
When Blaze unknowingly appears on an episode of Bling it On, the US goes with Blaze Fever – an affliction that many suffered in the 80s. This puts Blaze, Allison, and the former cast of Casa Grande on a collision course filled with hilarity, over the top revelations, and twists and turns that can only be true in a story featuring aging soap opera stars.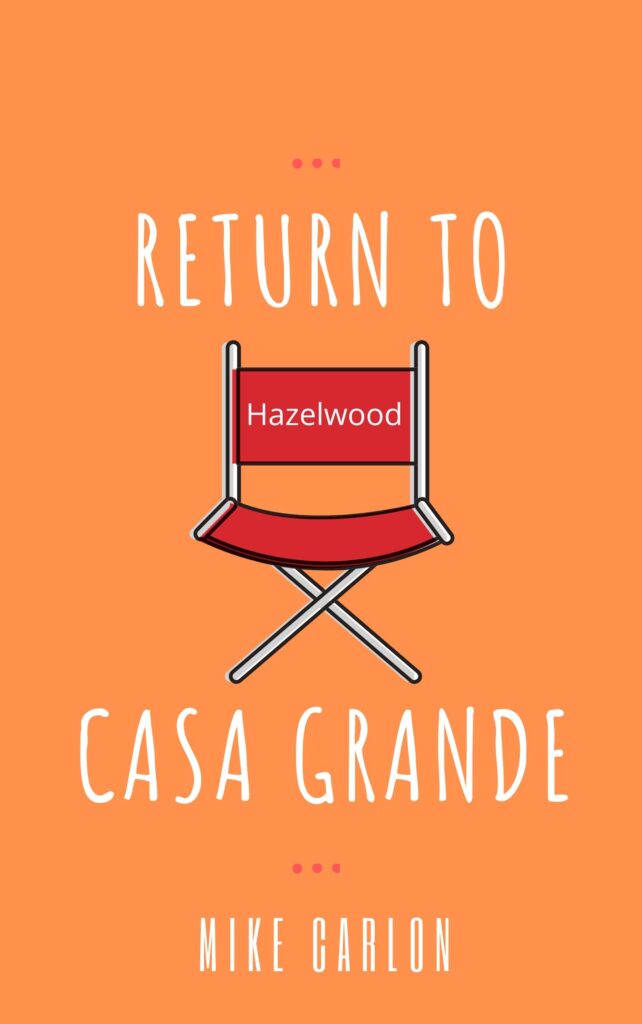 Amazon Review
This is an amusing, often poignant look at the sometimes tacky underbelly of aging celebrity and fading fame in the entertainment industry, specifically soap opera. It is actually the soap opera telling of a soap opera tale. The author nails the pop culture of the 80s. This is well written. The characters are believable for the era and storyline. Another of my favorites this year. A fast, fun read.
Amazon Review
Fun read and riveting story! Carlon's characters come to life and evoke feelings of empathy, anger and smiles. People around me on the plane wanted to know what I found so funny that had me audibly laughing. I couldn't put the book down. More, please!
Amazon Review
I truly enjoyed reading this book. It's a well-written light read that often had me laughing out loud. All the references to 80s pop culture fondly brought me back to those wild years. Anyone who came of age in the 80s will definitely appreciate all of the references. The colorful cast of characters and their various outlandish lifestyles makes the story even more entertaining. I can't wait to see what is in store for Blaze and the rest of the Return to Casa Grande cast!
Blaze Hazelwood
Washed-up actor hunting for relevance in an ever-changing industry.
T-Bang
Celebreality TV star and a thorn in Blaze's side.
Allison Hart
Creator of a hit reality TV show looking for lightening to strike twice.
Stanley Roth
Blaze's agent who is pressuring him to join his former castmates in a reality show called Return to Casa Grande.
Chapter 1
Thanks for the Memories
Blaze Hazelwood lifted his hands up to his eyes and rubbed them, hoping that doing so would reduce the sting of the hangover that was setting in. It was sometime after 3 a.m. and the snoring coming from the other side of the bed reminded Blaze that he wasn't alone. He lifted up the sheets to get a glance at the woman he picked up earlier in the evening and shook his head knowing that, in his heyday, he could have done much better.
Knowing that sleep was not going to come back to him anytime soon, he got out of bed and walked over to his television and ejected a tape from his VCR. You read that right, a VCR; Blaze was an actor past his prime and stuck in the 1980s. He looked at the tape to confirm what was written on it and saw that the label read May 8, 1989. Satisfied, he popped the tape back into his VCR, rewound it, and hit play. He sat at the end of his bed to re-watch the last news story done about Casa Grande, the 1980s primetime soap opera that made him famous.
The picture was fuzzy, so Blaze had to adjust the tracking on the machine. Once the level of clarity was passable, he saw the image of Kitty Carson, then a fifty-something reporter for a magazine devoted to soap operas, standing in front of the nightclub where the wrap party for Casa Grande was held twenty-five years prior.
"Greetings soap opera fans, Kitty Carson from 'The Soapdish' reporting. It's truly the end of an era—after 10 years on prime time, Casa Grande has closed its doors forever, leaving a hole in the hearts of the show's millions of devoted fans who will now have to turn elsewhere for their weekly dose of drama.
"Casa Grande was the very definition of the '80s soap opera. The show chronicled the lives of California winemakers the Thornridge family and featured every element synonymous with this golden age of prime-time soap—desire, power, jealousy, greed, murder, infighting and scandal. But network executives say viewer tastes are changing, so they're creating a drama geared toward younger adults for the coveted Monday at 10 p.m. time slot.
"Sources tell 'The Soapdish' that the new show, LaMaze Academy, will center on the lives of five teen girls attending a boarding school, who make a pact to all get pregnant during their junior year. Up-and-coming starlet Naomi Stevens is rumored to have a lead role.
"'Casa Grande has been a very successful show for the network, and it was a difficult decision to not renew the show for another season,' said network executive Geoffrey Crestwood. 'We wish the cast nothing but the best.'
"That's not what this reporter heard. Rumor has it that Crestwood's had it in for the show ever since the writers killed off the character Missy Thornridge, who was played by Crestwood's daughter Vanessa.
"But the Casa Grande body is not yet cold! How could I resist mentioning the revelations made last night? Spoiler alert for any of you who are going to watch it on your VHS players this evening: Madeline Thornridge, matriarch of the family, turned out to be having an affair with JR Solstice, 30 years her junior and the son of her nemesis, Sam Solstice of competing winemaker Global Wine Inc. We all knew she was seeing a mystery man for years, but even this imaginative entertainment reporter with a penchant for younger men didn't see that one coming.
"As if that weren't enough, we learned that Michael Thornridge arranged for the death of his sister Missy. His motive? He admitted to being in love with Kyle Dixon, the dashing young farmhand-turned-wine executive his late sister couldn't keep her hands off of.
"But perhaps the biggest bombshell of last night's series finale was learning that Missy Thornridge wasn't really dead after all—just as the handcuffs were about to be slapped on her brother Michael, Missy walked through the front door, and she was not alone. With her was a four-year-old boy, who we learned is the son of Barton Dixon, Kyle's father and the head caretaker of Casa Grande. Emotions changed on a dime for Kyle Dixon, who was visibly elated at the return of his lover yet instantaneously became furious to hear of her affair with his father. Then, in classic soap style, the lights flickered and a scream rang out! When the power came back on, we saw Kyle Dixon lying in a pool of blood, suffering from a stab wound but with no weapon to be found. The curtain closed on Casa Grande, leaving viewers wondering: Who stabbed Kyle Dixon?
"On their way into the after party, held at the ultra-trendy hot spot Vertigo in Hollywood, I spoke with fans on the street about their reactions to the series finale. Maria Vacodo had to be consoled by her sister Carol.
"It's like losing a friend," Maria said. "And I am just dying to know who stabbed Kyle!"
"I just can't believe it," said 22-year-old fan Catherine Rosdale. "I've been watching Casa Grande since its premiere in 1980 and have been hooked ever since. I want to have Blaze's baby!"
"She is referring, of course, to cast member Blaze Hazelwood, who played show hunk Kyle Dixon. Many women wore T-shirts that said Marry Me, Blaze. This reporter, old enough to be his mother, isn't too ashamed to admit she'd like a roll in the vineyard with the 20-year-old actor.
"You may recall the stir in West Germany earlier this year when Blaze was found to be having a secret affair with the mother of one-hit wonder Nena, of the song '99 Luftballons.' The Germans love Blaze, with his blond hair and blue eyes, and have caught a bad case of what they call Blaze Fieber, or Blaze Fever (auf Englisch). Apparently Blaze has a thing for older women; maybe there's a chance for me after all.
"I caught up with the cast members during the after-party to find out their plans for the future. Elizabeth Pierce, who played matriarch Madeline Thornridge, says she intends to take some time off."
"'Charles and I are going on an extended honeymoon,' Elizabeth said. 'He's always wanted to sail around the Greek islands, so that's what my current plan is, darling.'
"That's right—none other than Charles Pinkertoni, the Santa Barbara financier rumored to be connected with an Italian crime family. You didn't hear it here, lovelies, but the 30-year age difference between the two has left many wondering if Pinkertoni was looking for a beard to counter the rumors that he is a homosexual. If I go missing and my body is found at the bottom of the Pacific wearing cement shoes, you'll know I was right!
"Victor Tillmans, the actor who played head caretaker Barton Dixon, said he intends to buy a ranch in Simi Valley—a case of life imitating art.
"Danny Boy, who played Michael Thornridge, was living up to his Hollywood wild child image and had enjoyed one too many cocktails by the time I got to speak to him. Danny was slurring his words so badly I didn't even get a quote. I was able to make out that he'll be touring with his rock band Sinner's Swing this summer and may entertain offers for TV or movies after that. Oh Danny Boy, good luck with that.
"Vanessa Crestwood, who made her return to the show last night for its finale, says she is eager to show the world what she has to offer on the big screen—and that may mean revealing a bit of what her mama gave her."
"'I've signed on to do a film with director Erick Shon," she admitted, dropping the name of the Hollywood director whose films border on soft-core pornography. "So I guess you will be seeing a lot more of me in the future.'
"And when it comes to series star Blaze Hazelwood, there will be no rest for the weary.
"'I want to show the world that there is more than one dimension to Blaze Hazelwood,' he said, 'so I am going to try my hand on the stage this summer.'
"This confirmed the rumors I'd heard earlier this week about Hazelwood getting the lead role of Marty McFly in Back to the Future: The Musical.
"All good things must come to an end, and such is the case with Casa Grande. One thing is for certain: prime time will never be the same, without the colorful cast and equally colorful storylines of Casa Grande to keep us entertained. As far as this reporter is concerned, there will never again be a show quite like it."
When the segment was over, Blaze pushed the stop button on his VCR and went back into his bed. He debated whether or not to wake up the girl, whose name he couldn't remember, but decided against it. Instead, he put his head on a pillow and his back toward the girl. He was asleep minutes later.
Return to Casa Grande is THE soap opera inside of a soap opera. It's full of references to the era when the fictitious prime-time soap took place—the 1980's.
Michael Carlon is marketing professional, author, and the host of the Uncorking a Story podcast which features depth interviews with A-List authors as well as personal, motivating reflections from conversations Mike has had with the people he meets. He's the author of the successful Farrah Graham series of books as well as stand alone novels inlcuding Return to Casa Grande, Winning Streak, and the hilarious All the F*cks I Cannot Give.
When he is not writing a novel, a magazine article, or a piece for his local newspaper, Mike earns his living as a marketing consultant traveling around the country interviewing people about their experiences with and attitudes towards his clients' products and services. He is an expert at understanding what makes people tick and translating those insights into intelligence his clients can use to make better decisions.
Mike lives in Stamford, CT with his wife Nicole and their college-aged triplets Grace, Patrick, and Maggie. He holds a BA in Psychology from the University of Connecticut and an MBA with a concentration in marketing from Fairfield University.