Slippery People
A former scandal chasing investigative journalist seeks to unite a popular Country music artist with her birth father, a firefighter presumed dead on 9/11.
Former investigative journalist Greg James made a name for himself as a scandal chaser on TV. Wanting to start a new career involving less confrontation, he takes on a story that will reunite a Country music superstar with her birth father.
Before he can arrange a meeting between father and daughter, the pair are brought together by a fire. As an arson investigation proceeds, Greg's journalistic instincts kick in and he pairs up with Farrah Graham and Jimmy Doubts, hosts of the Uncorking a Murder Podcast, to follow his nose. Unfortunately, their curiosity leads them to the center of a scandal that will rock Greg's world.
Slippery People pairs suspense, romance, betrayal, and revenge with a keen comedic wit that will have readers laughing hard while racing towards the explosive conclusion.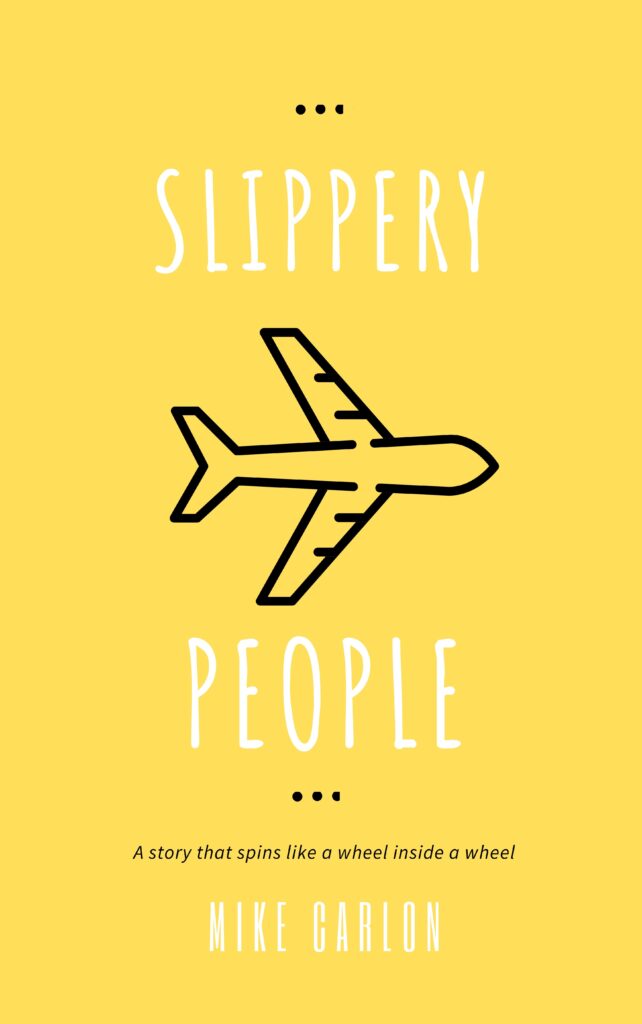 Amazon Review
I stalked the author until I got added to his ARC list and have been waiting patiently to review it. My only disappointment is that he writes slower than I read. In this newest adventure the chaos that is Jimmy Doubts continues and I laughed A LOT. I personally think the series should be read in order from the very beginning but if you had to you could read this is a standalone because it would still be hilarious and awesome. I really enjoyed the addition of Greg. Susan is a horrible horrible human (Calling her that feels like an insult to humans) & I wanted to punch her every time she showed up.
Read this book. Read all his books.
Amazon Review
Another great Farrah Graham novel. 5 stars! I don't know how author Michael Carlon keeps coming up with new suspenseful novels filled with laughs. Jimmy Doubts does not disappoint and neither does the Carlon's clues throughout you'll go back and realized you missed. This 4th installment is my new favorite! It's hip and a great read. Kudos.
Amazon Review
The book starts with many characters, however after some time you will start remembering their names. About halfway through the story, the author unveils a twist and from thereafter its more thrilling and a chase. There were a lot of pop culture references, and it was nice to read as a light thriller.
Stories that take place around real life world events are entertaining to read, as you can begin to imagine that these stories could be similar to the actual events that occur in the lives of those who were directly affected by the event (9/11).
Farrah Graham
Host of the Uncorking a Murder podcast. Agrees to help Greg James investigate the death of a 9/11 first responder.
Tabby Sunrise
Country music darling about to make waves by switching genres to pop music.
Greg James
Investigative Journalist hired to uncover the truth about Tabby's birth father.
Jimmy Doubts
Co-host of the Uncorking a Murder podcast. Love interest of Tabby Sunrise.
Terry Quinn
Former NYC firefighter who Tabby believes to be her birth father. He dies under suspicious circumstances in a house fire.
Charlie Delmar
Tabby's PR agent hired to smooth the fallout of her transition from country to pop.
Chapter 1
There are few things more startling than being woken up by slap on the back. Greg James finds this out the hard way when Susan, his wife, starts beating him.
Greg doesn't use a conventional alarm. Instead he's wakes up to Slippery People, his favorite song by his favorite band. There are two types of people in this world; those who like Talking Heads and those who don't know any better. His wife Susan is clearly in the latter group.
"What's that for?" Greg asks sleepily and turns around to shoot Susan a dirty look.
She's now sitting up in bed with her arms folded across her chest and is clearly stewing about something.
"Because I'm pissed at you," Susan says disdainfully.
Greg was a hard-charging investigative journalist and his show, Catch a Creep, was a ratings darling for his former network. The show televised sting operations in which sexual predators were caught on camera trying to get busy with underage prey, only to be met by a smirking and wisecracking Greg James after being let into a home by someone they thought was the target of their "affection." He left the show, however, after it nearly killed him.
Last year, Greg was brutally beaten by Peter MacArthur, one of the predators set-up by Catch a Creep. It all happened at a home in Plantation, Florida, a town just west of Ft. Lauderdale. MacArthur was a used car salesman expecting to have an evening rendezvous with a thirteen-year-old girl. When Greg came out from his hiding spot in the house that was rented for the sting, Peter charged him like a man possessed and, for lack of a better term, beat the shit out of him. It took a cameraman, the show's producer, and one of Plantation's finest to get MacArthur off of Greg.
After being taken to Holy Cross Hospital in Ft. Lauderdale for his injuries, Greg's attending medical team found that he suffered from both high blood pressure and high cholesterol. A razor-sharp nurse suggested that the attending cardiologist pay Greg a visit for a consult, and her hunch paid off—after a number of tests the doctor confirmed that he suffered from coronary artery disease. Additional tests showed that numerous blood vessels to his heart were blocked and, as a result, Greg was scheduled for emergency bypass surgery.
During his recovery, Greg's doctors warned that if he didn't make some big lifestyle changes and alter his Type-A personality he'd be right back on their OR table or, worse, the undertaker's slab. The way one doctor described it, prior to surgery Greg could have been doing something as trivial as walking out to get the paper when the big one would hit. The doctor referred to it as the widowmaker and the thought of his life coming to an abrupt end while walking down his driveway to pick up a copy of The Stamford Advocate was enough to encourage Greg to change his ways. It's a good local newspaper, but not one worth dying for.
This event forced Greg to reevaluate the way he was living his life. He subsequently left his show mid-season, which resulted in a burned bridge with network brass. Emerging from the flames was what Susan referred to as Zen Greg.
Gone is the Type-A scandal chaser and in his place is a relaxed and laissez faire Greg James who reidentified with his Catholic faith, ran daily, and is content to let things take their natural course. He was certainly not the alpha male that Susan fell in love with, a fact that put a little extra pepper in this morning's assault. She also hates the facial hair he grew as an attempt to separate himself from his former self. He thinks the salt and pepper beard makes him look more distinguished; Susan thinks it makes him look homeless.
"I haven't even done anything yet," Greg protests. It is only six-thirty in the morning and he was already in the dog house.
"Two words, Charlie Delmar."
"Not this again," he says, already sounding exasperated while getting out of bed. If this is how Monday begins, it is going to be a long day.
If this were a year ago, his Monday morning wakeup experience likely would have involved what he called a little Monday-funday, but since his great transformation, Susan's sexual spigot has been cemented in the off position. Greg often jokes to his friends that he knew it was time to pay his quarterly taxes when he and Susan engaged in the marital embrace.
He walks into the bathroom and closes the door and Susan doesn't wait for him to finish urinating before the harping begins.
"Why won't you take a meeting with Charlie?"
Greg opens the door and pops his head out, "Because I don't want to," he says while brushing his teeth.
As a literary agent specializing in memoirs, Susan meets with a lot of celebrity publicists to hear pitches. Charlie Delmar mainly represents B-List celebrities and counts Kardashians, Real Housewives, and YouTubers amongst his stable of clients. Susan has made a good living over the past few years selling books from Charlie's clients to top publishers and Charlie has recently been on her about getting a meeting with Greg, threatening to go to other agents to represent his client's memoirs if she doesn't make it happen.
"But Charlie says it's exactly what you are looking for."
While recuperating from his attack and health scare, Greg started to obsess over the fact that while Catch a Creep did society a favor by getting child predators off the streets, it also led to some collateral damage as the families of the perpetrators were often torn apart in a very public way. Additionally, some victims found that their lives were ruined after their stories were broadcast. This all weighed heavily on Greg and he discussed it often with Susan, though he couldn't figure out how he could turn his desire into an idea.
"How would he know what I am looking for?"
"He and I talk a lot. I told him about what you were struggling with in the hopes that maybe he could come up with an idea, and it sounds like he has. Just hear him out."
Greg spits his toothpaste into the sink and replies, "Look, I know that you and Charlie have some great racket going, but I don't want to be associated with his clientele."
"It's just a meeting, not a marriage!" Susan protests. "He's got time open this afternoon. Can't you just do this for me?"
Greg has moved out of the bathroom and into his walk-in closet to get dressed for his morning run. Since it is the early part of March and the Connecticut winter is more lion than lamb, he is bundling up.
"I'm not going to waste his time or mine," he replies. "Plus, I'm going into the city to do Jane's radio show."
Greg and Jane Breuer worked at the same network for years, he on Catch a Creep and she on a Saturday night sketch show. She currently hosts an afternoon drive show on satellite radio and yesterday her producer called asking if Greg could do her a favor and make an appearance on the show as their Monday guest cancelled at the last minute.
"What time's the show?"
"Two o'clock," Greg says while tying his shoes.
"Perfect, then you can meet Charlie at noon."
At one point in life Greg admired Susan's persistence, but that was the old Greg. The new Greg just wants her to take no for an answer.
"What did I tell you the last time you asked me to meet with Charlie?"
"That you'd only meet him after hell froze over."
"It's cold outside, but it ain't that cold," Greg says while emerging from his closet. "How do I look?"
"Like you are about to rob a bank."
Greg turns around to evaluate himself in the full-length mirror that hangs in his closet. He is wearing black tights, a black windbreaker over a black turtleneck, a black cap, and black gloves.
He turns around, looks at Susan, and sings with a baritone twang, "I wear black for the poor and beaten down, livin' in the hopeless, hungry side of town."
"You are impossible."
In addition to not having an appreciation for Talking Heads, Susan doesn't understand Greg's love of Johnny Cash, the original man in black.
Her hopes of brokering a meeting between Greg and Charlie are dashed when Greg walks out of their bedroom with conceding to a meeting. She knows that Charlie's threat to find another preferred agent for his clients isn't an idle one and therefore decides to change her tactic.
"Greg," she calls out just as he's about to take his first steps down the stairs.
"What?"
"I know how you feel about Charlie. He's loud, aggressive, and everything you aren't. But he's a really good business partner for me so if you won't take the meeting for you, please consider taking it for me." Susan isn't beneath playing into her husband's Catholic guilt.
Greg, taken aback by an uncharacteristic moment of humility from his wife, considers her request. "Fine. I'll meet with Charlie, but no promises."
Susan smiles and even offers to make the reservation. "I'll get you guys a table at Fresco's on fifty-second. I know how much you loved that place when you worked in New York. What time is good for you?"
"I'm due in Jane's studio at two, so how about twelve o'clock?"
"Consider it done. Thank you."
"The things we do for love," Greg says while exhaling and heading down the stairs, eager to stretch and begin his run.
At the heart of Slippery People is a story about how it's never to late to change who you are and how others see you. It's a story about personal growth wrapped up in a tale about betrayal and revenge.
Michael Carlon is marketing professional, author, and the host of the Uncorking a Story podcast which features depth interviews with A-List authors as well as personal, motivating reflections from conversations Mike has had with the people he meets. He's the author of the successful Farrah Graham series of books as well as stand alone novels inlcuding Return to Casa Grande, Winning Streak, and the hilarious All the F*cks I Cannot Give.
When he is not writing a novel, a magazine article, or a piece for his local newspaper, Mike earns his living as a marketing consultant traveling around the country interviewing people about their experiences with and attitudes towards his clients' products and services. He is an expert at understanding what makes people tick and translating those insights into intelligence his clients can use to make better decisions.
Mike lives in Stamford, CT with his wife Nicole and their college-aged triplets Grace, Patrick, and Maggie. He holds a BA in Psychology from the University of Connecticut and an MBA with a concentration in marketing from Fairfield University.