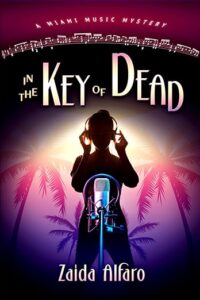 Sometimes I interview someone and we just don't click. There are those interviews where we just fail to find a groove and I think to myself, that could have been better. I am happy to report that today's interview is not one of those! Maybe it's because I've interviewed Zaida before, maybe its because we are both natives of South Florida, or maybe it's because we both share an appreciation for Rob Thomas and 90s rock, but this conversation with Zaida Alfaro was a blast from the get go.  
Meet Zaida Alfaro
Zaida was born into art.  Her mother is an amazing artist, composer, and musician who taught Zaida how to play the piano when she was 12 years old. She has taken the storytelling approach of her songwriting to pen two novels, the most recent being In the Key of Dead.
Key Themes
Zaida's upbringing in an artistic family heavily influenced her passion for storytelling and music. Her mother, an artist, composer, and musician, taught her to play the piano at a young age, shaping her creative journey. 

Zaida's advice to her younger self would be to not be too hard on herself. Self-acceptance and letting things unfold naturally are important lessons she has learned throughout her career.

Zaida's novels, "The Last Note" and "In the Key of Dead," showcase her storytelling approach, combining her songwriting skills with long-term fiction writing. These books delve into the music industry, cozy murder mysteries, and personal struggles.

Miami serves as a significant source of inspiration for Zaida, and she loves writing about the city and its diverse personalities. Her novels provide readers with a vivid sense of being in Miami and offer glimpses into her Latin culture and family.

Zaida encourages embracing creativity in various forms, not just limited to traditional artistic expressions. She believes creativity is a way of thinking, problem-solving, and expressing oneself, urging others to explore their creative potential.
Buy In the Key of Dead
Amazon: https://amzn.to/3PmxdV0
Meet Zaida Alfaro: 
Zaida will be appearing at Books and Books in Coral Gables, FL 
Saturday, October 21st at 7pm
265 Aragon Ave,
Coral Gables, FL 33134
Connect With Zaida
Website: https://zaidamusic.com/
Facebook: https://www.facebook.com/zaidamusic
Twitter: https://twitter.com/zaidamusic
Instagram: https://www.instagram.com/zaidamusic/
YouTube: https://www.youtube.com/user/zndmusic
Connect with Mike
Website: https://uncorkingastory.com/
Youtube: https://www.youtube.com/channel/UCSvS4fuG3L1JMZeOyHvfk_g
Instagram: https://www.instagram.com/uncorkingastory/
TikTok: https://www.tiktok.com/@uncorkingastory
Twitter: https://twitter.com/uncorkingastory
Facebook: https://www.facebook.com/uncorkingastory
LinkedIn: https://www.linkedin.com/company/uncorking-a-story/
If you like this episode, please share it with a friend. If you have not done so already, please rate and review Uncorking a Story on Apple Podcasts, or wherever you get your podcasts.
#UncorkingAStory #PodcastEpisode #ZaidaAlfaro #SingerSongwriter #AuthorJourney #GoldenGirls #Inspiration #CulturalExploration #WritingProcess #RobThomas #Nostalgia #CozyGenre #BookRelease #MusicInfluence #SelfDiscovery #TrainRide #GenerationalDivide #ArtisticExpression #EmbraceSelfAcceptance #TrySomethingNew #MemorableExperience #LiteraryConnections #MiamiCulture #MixTapes #RegretsAndDreams #Productivity #SocialMedia #FollowZaida #ZetaMusic #BooksAndBooks #AuthorInterview #OutroSong #EpisodeHighlights #ContentCreation