Back in 2017, U2 toured the world performing The Joshua Tree in its entirety to commemorate the 30th anniversary of that iconic album. Really, there's not a bad song on it and you haven't lived until you've heard Bullet in the Blue Sky or Exit performed live. I digress.
They opened the show with a few songs that were written prior to The Joshua Tree. If memory serves, and it should since I was the designated driver, opening songs included Sunday Bloody Sunday, Bad, New Years Day, and Pride (In the Name of Love). Now I had seen the band plenty of times before 2017 but never had they played so many of their old hits in one show since before the 90's Zoo TV era. I could have died that night and my life would have felt complete. 
After then performing The Joshua Tree album from front to back, they played a few of their later songs and closed the show with a song that would wind up on an album released later that year. It's called The Little Things that Give You Away. And, like many songs that Bono writes to himself, it's deep and has a melody that's somewhat haunting.
In the bridge of the song he sings:
Sometimes
I'm full of anger and grieving
So far away from believing
That any song will reappear
Sometimes
The end is not coming
It's not coming
The end is here
Sometimes
I'm no psychologist, but to me this is all about fear. Fear that he won't be able to write anymore. Fear that it's all over, the best years of his life are behind him as an artist. 
Over the past few weeks, I've been interviewing small business owners in the retail industry about how the pandemic has impacted their businesses. I have a client, who shall remain nameless, who specifically wanted to better understand how Hispanic Bodega owners were weathering the storm. The answer? Not great!
While they are considered essential and could stay open, their customer base is largely elderly people from the neighborhood who walk to the store for their groceries. One store owner, Edward, told me that the fear set in by the news media was so strong that his customers basically refused to leave their homes. For context, the small butcher shop he owns with his father is in Georgia, about an hour northwest of Atlanta, where we in the Northeast were led to believe that people weren't taking the pandemic seriously. Their register receipts beg to differ.
His kiss of death was when the churches were forced to close, as many people would do their marketing on Sundays after mass.
It was a business that his father opened in January of 2020. In fact, he took his 401K, liquidated it, and bought the business thinking it would be his retirement plan. His father loved to cook and dreamed of extending it into a full service restaurant. He also owns a farm where he raises all the animals he butchers to sell as meat. We are talking goats, lamb, and beef which are all traditional ingredients in Guatemalan and South American food (most of their customers are from those parts of the world)
January and February were great, but then March happened. People stocked up and then hunkered down. Fear kept them inside.
Make no mistake, I'm not judging them for their fear. I know it is real. But bigger businesses did okay during this time. The Walmart down the road didn't have to close.  The small business Edward runs with his father, though, went on life support. He started to face that fear that Bono was singing about in that song.
I asked him how, if at all, his suppliers supported him and his father during this time and that's when he started to get a little angry. They would reach out to him with invoices and late payment notices, but nothing more. After a while, their trucks would pass him by.
Now look, I get it, those suppliers can't eat by giving things away, but something tells me that companies like the ones he was talking about could afford 60 or 90 day payment terms. In fact, he told me that even if they just did a few little things for him, it would have made all the difference.
There it is again—the little things.
The little things oftentimes make all the difference in the world. If you look at world class athletes, take runners or swimmers for example, they don't win races by minutes, they win by tenths of seconds. Sometimes, hundredths of seconds. Little things.
A comedian can change one word in a joke or add an extra pause or maybe an inflection and it may earn them a bigger laugh or applause break. Little things.
So just as the little things give us away, as Bono says, the little things can also build us up. 
The other day, I was talking to a fellow moderator who I've hired to help me with the project I've been talking about and when we were catching up I told her about some of the things I've been up to lately. I then sent her a link to an interview I did for this project so she could get a sense of what it was all about. She called me back and told me how much she loved my interviewing style and how natural it felt to her. She also remarked on all that I have accomplished in the past few years, from reinventing my business to my creative endeavors. Now I'm not one to go fishing for compliments, but I have to say it was just what I needed to hear at that moment. Oftentimes we put so much into the world without much feedback and it was really great to hear a master of the craft compliment me on mine. It wasn't a huge investment in time on her part. Little things.
So, your mission, if you choose to accept it, find a way to do something little for someone else today. Offer a compliment, a little pick me up. Call someone just to chat. Or do something little for yourself. Take a walk. Treat yourself to a healthy meal. Do some journaling. Little things.
Oftentimes I think we get so caught up on big changes that we forget little actions can make big differences. And that's one to grow on.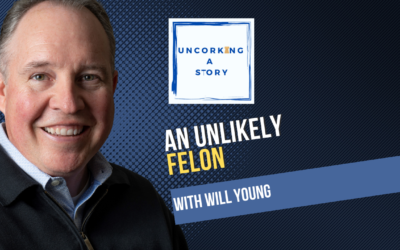 Everything I know about the criminal justice system I learned from Law and Order. Seriously, I've...
Stay Connected to Get The Latest Podcast Alerts