My eighty-nine year old mother has a catch phrase. When she doesn't know what to say, she'll typically belt on, "It's all good." Even though her age has robbed her of her short-term memory, she remains very optimistic and, in general, happy. Growing up, if I was ever anxious about something, she'd frequently say to me, "Things will happen on their own time." I was reminded of that during my conversation with today's guest, Sarah McCraw Crow, who talked about having a number of manuscripts "In the jar," before one was finally selected for publication. Sometimes being in a different stage of life, and the experience that comes with it, infuses our writing with the wisdom and insights that are required to make a manuscript really stand out in the eyes of an agent and/or publisher. 
Meet Sarah McCraw Crow: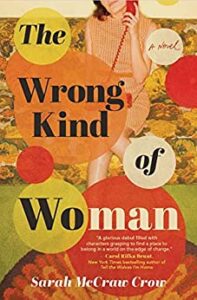 When it comes to fiction writing (and reading), Sarah is obsessed with women's lives and the drama of family life. She also loves the Seventies. A graduate of Dartmouth College, Stanford University, and Vermont College of Fine Arts, Sarah lives with her family on an old farm in New Hampshire. She joined me on Uncorking a Story to talk about her debut novel, The Wrong Kind of Woman.
Key Topics:
The story behind the title of her debut novel.

Why Sarah likes writing about the 70s.

Why it's so important to give yourself permission to keep writing.

The importance of starting a new project when your existing manuscript is out for submission.

The importance of thinking of yourself as a writer and creative person.
Buy The Wrong Kind of Woman
Amazon: https://amzn.to/3TxpUKa
Bookshop.org: https://bookshop.org/a/54587/9780778312314
Connect with Sarah:
Website: https://sarahmccrawcrow.com
Instagram: https://www.instagram.com/sarahmccrawcrow/
Facebook: https://m.facebook.com/sarahmccrawcrow/
Twitter: https://twitter.com/sarahmcrow
Connect with Mike
Website: https://uncorkingastory.com/
Youtube: https://www.youtube.com/channel/UCSvS4fuG3L1JMZeOyHvfk_g
Instagram: https://www.instagram.com/uncorkingastory/
Twitter: https://twitter.com/uncorkingastory
Facebook: https://www.facebook.com/uncorkingastory
LinkedIn: https://www.linkedin.com/company/uncorking-a-story/
If you like this episode, please share it with a friend. If you have not done so already, please rate and review Uncorking a Story on Apple Podcasts, or wherever you get your podcasts.