I spent most of my corporate career working in the area of market research. In short, I talk to consumers for a living and then turn their stories into narratives my clients can use for better decision making. When I think about it, Robert Kerbeck did something with the same intentions, but went about it in a completely different manner—and I was delighted to uncork his story.
Meet Robert Kerbeck: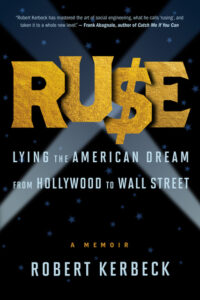 Robert Kerbeck is the founder of the Malibu Writers Circle and a three-time Pushcart Prize nominee.  His essays and short stories have been featured in numerous magazines and literary journals, including Narratively, Los Angeles Magazine, and Shondaland. One of his stories was adapted into the award-winning film, Reconnected, which has appeared at film festivals worldwide. 
A lifetime member of The Actors Studio, Robert has worked extensively in theater, film, and television, appearing in lead roles in major shows and earning several awards. He joined me on Uncorking a Story to talk about his career and memoir RU$E: Lying the American Dream from Hollywood to Wall Street, which provides a look into his career as a secret corporate spy. 
Key Topics:
How an English professor at Drexel set him on the path of becoming a writer and actor (and encouraged him to switch schools to UPenn).

His decision to leave his father's successful automotive business and pursue a career as an actor.

Why and how he turned to corporate spying to make ends meet while pursuing his dream of becoming an actor.

How he started his own successful firm and how he wound up being targeted by the government.

What it was like to work with OJ Simpson and know that Al Pacino was in the audience watching him on stage.

How a suicide note led to this memoir, which is now being developed as a TV series. How his artistic ambitions came full circle.
Buy Ruse:
Amazon: https://amzn.to/3eQUTCD
Bookshop.org: https://bookshop.org/a/54587/9780593545829
Connect with Robert:
Website: https://www.robertkerbeck.com/
Instagram: https://www.instagram.com/robertkerbeck/
Twitter: https://twitter.com/robertkerbeck/
Facebook: https://www.facebook.com/profile.php?id=100008371966485
Connect with Mike:
Website: https://uncorkingastory.com/
Youtube: https://www.youtube.com/channel/UCSvS4fuG3L1JMZeOyHvfk_g
Instagram: https://www.instagram.com/uncorkingastory/
Twitter: https://twitter.com/uncorkingastory
Facebook: https://www.facebook.com/uncorkingastory
LinkedIn: https://www.linkedin.com/company/uncorking-a-story/
If you like this episode, please share it with a friend. If you have not done so already, please rate and review Uncorking a Story on Spotify, Apple Podcasts, or wherever you get yours.