One thing stayed with me after my conversation with Joy Jordan Lake. She opened up to me about how a fear of failure as a writer prevented her from fully embracing it as a career. Don't get me wrong, most authors have a challenging time making ends meet solely by their writing, but there's a difference between having a day job and treating writing as a hobby vs. treating writing as a passion. It's only after we really treat it as a passion that we have the possibility of finding any success as writers.
Meet Joy Jordan Lake: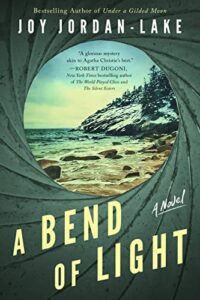 Joy's varied professional experience has included working as a college professor, author, journalist, waitress, director of a program for homeless families, university chaplain, horseback riding instructor, freelance photographer, and the job title that remains her personal favorite–head sailing instructor. She recently joined me on Uncorking a Story to talk about her latest novel, A Bend of Light.
Key Topics:
How her love of reading fueled her career as a writer.

Why elementary school teachers are the ones who "rock the world."

How investing in herself, by going to a writer's conference when she had very little money in the bank, was a turning point in Joy Jordan's life.

The importance of vulnerability in the writing process.

The importance of persistence and having thick skin while going through the agent querying process.
"I would tell myself to not build so many safety nets under myself. I had an embarrassing list of long jobs…part of that was because I was scared to fail as a writer. I wish I'd taken writing more seriously earlier." — Joy Jordan Lake
Buy A Bend of Light
Amazon: https://amzn.to/3AFU33P
Bookshop.org: https://bookshop.org/a/54587/9781542037907
Connect with Joy
Website: https://www.joyjordanlake.com/
Instagram: https://www.instagram.com/joyjordanlake_books/
Facebook: https://www.facebook.com/joyjordanlakeauthor/
Twitter: https://twitter.com/joyjordanlake
Connect with Mike
Website: https://uncorkingastory.com/
Youtube: https://www.youtube.com/channel/UCSvS4fuG3L1JMZeOyHvfk_g
Instagram: https://www.instagram.com/uncorkingastory/
Twitter: https://twitter.com/uncorkingastory
Facebook: https://www.facebook.com/uncorkingastory
LinkedIn: https://www.linkedin.com/company/uncorking-a-story/
If you like this episode, please share it with a friend. If you have not done so already, please rate and review Uncorking a Story on Spotify, Apple Podcasts, or wherever you get yours.