I share a few things in common with today's esteemed guest on Uncorking a Story. Glenn Kaplan and I both worked at Foote, Cone, and Belding and we both live in Connecticut, but only one of us has made the New York Times Bestseller List (hint, it's not me). He recently joined me to discuss his latest book Angel of Ambition.
Meet Glenn Kaplan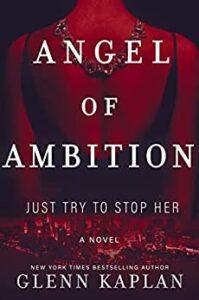 Glenn is the NY Times bestselling author of Evil Inc. and Poison Pill. He's worked in the international art world and as creative director in global advertising agencies and a Fortune 500 company. 
Key Topics:
How a lunch at a prestigious club in the early 1980s led to a deal for his first book, The Big Time: How Success Really Works in 14 Top Business Careers.

Glenn's experience being orphaned at a large publishing house.

Why his ability to write believable female characters is a key ingredient to the recipe of his success.

The story behind Angel of Ambition, Glenn's most recent release.

Why he'd tell his younger self to not strive for perfection during the writing process.
Buy Angel of Ambition:
Amazon: https://amzn.to/3IYKuSg
Bookshop.org: https://bookshop.org/a/54587/9781954907348
Connect with Glenn Kaplan
Website: https://www.glennkaplan.com/
Instagram: https://www.instagram.com/glennkaplan/
Facebook: https://www.facebook.com/glenn.kaplan.75
YouTube: https://www.youtube.com/@angelofambition9351/featured
Connect with Mike
Website: https://uncorkingastory.com/
Youtube: https://www.youtube.com/channel/UCSvS4fuG3L1JMZeOyHvfk_g
Instagram: https://www.instagram.com/uncorkingastory/
TikTok: https://www.tiktok.com/@uncorkingastory
Twitter: https://twitter.com/uncorkingastory
Facebook: https://www.facebook.com/uncorkingastory
LinkedIn: https://www.linkedin.com/company/uncorking-a-story/
If you like this episode, please share it with a friend. If you have not done so already, please rate and review Uncorking a Story on Apple Podcasts, or wherever you get your podcasts.