Edward Carey is a novelist, visual artist, and playwright. His previous novels include The Swallowed Man, which was a New York Times Book Review Editors' Choice, Little, Alva & Irva, and Observatory Mansions. He joined me on Uncorking a Story to talk about his career and latest novel, Edith Holler.
Key Themes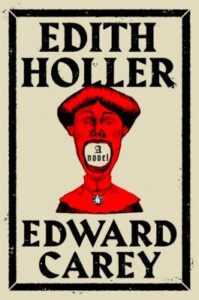 Edward's Creative Journey: Edward Carey's journey as a multifaceted artist began with his passion for drawing as a child. He explored various artistic mediums, including visual art, playwriting, and novel writing.

Embracing Vulnerability in Writing: Edward emphasizes the importance of embracing vulnerability as a writer. He believes that even in fiction, writers reveal a part of themselves on the page, allowing readers to connect with their subconscious thoughts and emotions.

The Intense Relationship Between Writers and Characters: Edward discusses the deep connection between writers and their characters. He believes that writers must surrender control and allow their characters to guide the story, creating a more authentic and compelling narrative.

Unleashing Creativity through Theater and Writing: Edward shares his experience of combining theater and writing to create a unique and empowering creative process. He highlights the power of storytelling and how it can be used to address important social issues.

Finding Inspiration in Unexpected Places: Edward reveals how the pandemic unexpectedly influenced his latest novel, "Edith Holler." 
Buy Edith Holler
Amazon: https://amzn.to/400QZKF
Bookshop.org: https://bookshop.org/a/54587/9780593188903
Connect With Edward
Website: https://edwardcareyauthor.com/
Twitter: https://twitter.com/EdwardCarey70
Instagram: https://www.instagram.com/edwardcareyauthor/
Facebook: https://www.facebook.com/EdwardCareyAuthor
Connect with Mike
Website: https://uncorkingastory.com/
Youtube: https://www.youtube.com/channel/UCSvS4fuG3L1JMZeOyHvfk_g
Instagram: https://www.instagram.com/uncorkingastory/
TikTok: https://www.tiktok.com/@uncorkingastory
Twitter: https://twitter.com/uncorkingastory
Facebook: https://www.facebook.com/uncorkingastory
LinkedIn: https://www.linkedin.com/company/uncorking-a-story/
If you like this episode, please share it with a friend. If you have not done so already, please rate and review Uncorking a Story on Apple Podcasts, or wherever you get your podcasts.