Carissa Orlando has a doctorate in clinical-community psychology and specializes in work with children and adolescents. Prior to her career in psychology, she studied creative writing in college and has written creatively in some form since she was a child. An avid horror fan for much of her life, It was only a matter of time before she merged her understanding of the human psyche and deep love for storytelling into a piece of fiction. She joined me on Uncorking a story to discuss her debut novel, The September House. 
Key Themes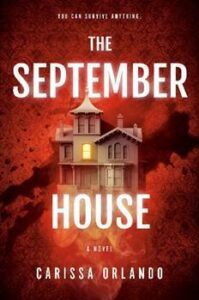 The benefits of a psychology background in academic writing and dissertation preparation: Carissa's background in clinical community psychology has greatly influenced her writing process and understanding of human behavior, adding depth and authenticity to her storytelling.

The exciting journey of a first-time fiction writer: Carissa shares her experience as a first-time fiction writer, discussing the joys and challenges of bringing her creative ideas to life. Her journey serves as inspiration for aspiring writers, showcasing the possibilities that come with pursuing one's passion.

Overcoming rejection and finding motivation in the publishing industry: Carissa opens up about facing rejection in the publishing industry and how she found the motivation to keep going. Her perseverance and belief in her work serve as a reminder that setbacks can be stepping stones to success.
Buy The September House
Amazon: https://amzn.to/45gFj7N
Bookshop.org: https://bookshop.org/a/54587/9780593548615
Connect with Mike
Website: https://uncorkingastory.com/
Youtube: https://www.youtube.com/channel/UCSvS4fuG3L1JMZeOyHvfk_g
Instagram: https://www.instagram.com/uncorkingastory/
TikTok: https://www.tiktok.com/@uncorkingastory
Twitter: https://twitter.com/uncorkingastory
Facebook: https://www.facebook.com/uncorkingastory
LinkedIn: https://www.linkedin.com/company/uncorking-a-story/
If you like this episode, please share it with a friend. If you have not done so already, please rate and review Uncorking a Story on Apple Podcasts, or wherever you get your podcasts.
#StrategicQuerying #FirstTimeAuthor #LiteraryAgents #QueryLetters #BookPublishing #AuthorLife #WritingCommunity #HorrorGenre #BookRelease #SupportLocalBookstores #BookLovers #BookRecommendations #UncorkingAStory #PodcastEpisode #AuthorInterview #BookMarketing