Do you wonder why bad things always seem to happen to good people? Do you want to know how to overcome adversity and become successful despite terrible odds? Would you like to know what a parkway on Long Island has to do with two evil dictators? Well, today's Guest, Steve Borys, has been struggling with these questions all his life and graciously let me uncork his story.
Meet Steve Borys: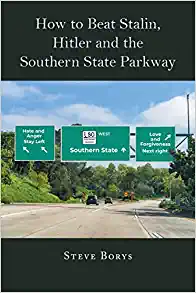 Steve Grew up in Sayville, NY on the east end of Long Island. He Attended Fordham University, where he earned a BA in History and an MAT in Social Studies. At Fordham, Steve played football and was a team captain, 2 time all patriot league and an honorable mention All American. After college, Steve has been teaching and coaching for the last 25 years and just wrote his first book called, 'How to beat Stalin, Hitler, and the Southern State Parkway'.
Key Topics:
The important role that joining a football team played in Steve's life.

How Steve got through the darkest times of his life.

The impact losing his mother and sister had on his life.

Why Steve believes that the answers to most of our problems are love and community.

Why he believes that his story can help people who are struggling through these chaotic times.
Buy How to Beat Stalin, Hilter and the Southern State Parkway
Amazon: https://amzn.to/3Ql2C9s
Bookshop.org: https://bookshop.org/a/54587/9781662445316
 Connect with Steve
e-mail: mailto:[email protected]
Instagram: https://www.instagram.com/steveborys/
Facebook: https://www.facebook.com/steve.borys
YouTube: https://www.youtube.com/channel/UCERbpmmk0_4qPTbZ3YT3mhA
Connect with Mike
Website: https://uncorkingastory.com/
Youtube: https://www.youtube.com/channel/UCSvS4fuG3L1JMZeOyHvfk_g
Instagram: https://www.instagram.com/uncorkingastory/
Twitter: https://twitter.com/uncorkingastory
Facebook: https://www.facebook.com/uncorkingastory
LinkedIn: https://www.linkedin.com/company/uncorking-a-story/
If you like this episode, please share it with a friend. If you have not done so already, please rate and review Uncorking a Story on Apple Podcasts, or wherever you get your podcasts.