Just like the classic Let it Be by The Beatles, author Lauren Destefano shares many words of wisdom for authors in today's episode of Uncorking a Story.
Meet Lauren DeStefano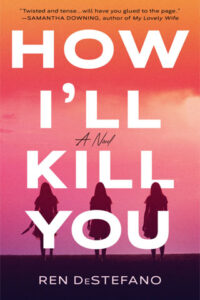 Lauren DeStefano lives in Connecticut, where she was born and raised. When she's not writing thrillers, she's listening to true crime podcasts and crocheting way too many blankets. She joined me on Uncorking a Story to talk about her career and latest thriller, How I'll Kill You. 
Key Topics:
100 rejections until she found her agent.

Why having one published novel under your belt doesn't guarantee future success.

The importance of authenticity when writing.

How to navigate genre switching.

The importance of having a support circle.

Why offering support is so critical for authors.

Why it is important to consider critical feedback, even if it is not what you want to hear.

Why it is so important to trust your agent and consider that they may know your voice better than you do.
Buy How I'll Kill You
Amazon: https://amzn.to/3YHWU52
Bookshop.org: https://bookshop.org/a/54587/9780593438305
Connect With Lauren
Website: https://laurendestefano.com/
Instagram: https://www.instagram.com/laurendestefanoauthor/ 
Connect with Mike
Website: https://uncorkingastory.com/
Youtube: https://www.youtube.com/channel/UCSvS4fuG3L1JMZeOyHvfk_g
Instagram: https://www.instagram.com/uncorkingastory/
TikTok: https://www.tiktok.com/@uncorkingastory
Twitter: https://twitter.com/uncorkingastory
Facebook: https://www.facebook.com/uncorkingastory
LinkedIn: https://www.linkedin.com/company/uncorking-a-story/
If you like this episode, please share it with a friend. If you have not done so already, please rate and review Uncorking a Story on Apple Podcasts, or wherever you get your podcasts.