When I was a kid, my brother Jimmy and I would watch the original Clash of the Titans over and over and over. It had everything a young boy would love; heroes, Gods, magical weapons, and a young Maggie Smith. When offered the chance to interview the author of a book entitled Medusa's sisters, not even Perseus himself could stop me!
Meet Lauren J.A. Bear
After studying English at UCLA and Education at LMU, Lauren taught middle-school Humanities for over a decade – and survived!  She is a teaching fellow for the Holocaust Center for Humanity, and joined me today to talk about her debut novel Medusa's Sisters.
Key Themes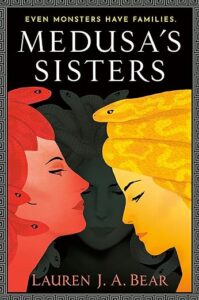 The importance of belief and persistence: One of the main lessons highlighted in the episode is the significance of believing in oneself as a writer and persisting through challenges. Lauren emphasizes that the only difference between an amateur and a professional writer is the ability to keep going.

Overcoming imposter syndrome: Imposter syndrome, a feeling of inadequacy or self-doubt, is a common struggle for many writers. Lauren discusses the need to watch out for imposter syndrome and offers insights on embracing authenticity and self-love to combat it.

The power of starting and doing the work: Lauren emphasizes that the act of starting to write and consistently putting in the work is the first step towards becoming a writer. It is highlighted that regardless of whether others find value in your writing, the process of doing the reps and honing your craft is crucial.

Craft and precision in writing: The episode explores the importance of craft and precision in writing, drawing attention to the meticulousness of poets and the need for clarity in fantasy writing. Aspiring writers can learn from the idea of carefully choosing each word and tightening their writing to create impactful and engaging prose.

Learning from rejection and perseverance: Lauren shares her experience of receiving numerous rejections for her first manuscript before finding success with her second. This highlights the importance of perseverance and learning from rejection as a writer. Aspiring writers can take away the lesson that rejection is a part of the journey and that they must keep going despite setbacks.
Buy Medusa's Sisters
Amazon: https://amzn.to/3sU7pIf
Bookshop.org: https://bookshop.org/a/54587/9780593547762
Connect With Lauren
Website: https://www.laurenjabear.com/
TikTok: https://www.tiktok.com/@authorlaurenjabear
Twitter: https://twitter.com/laurenjabear
Instagram: https://www.instagram.com/laurenjabear/
Goodreads:: https://www.goodreads.com/author/show/23030294.Lauren_J_A_Bear
Connect with Mike
Website: https://uncorkingastory.com/
Youtube: https://www.youtube.com/channel/UCSvS4fuG3L1JMZeOyHvfk_g
Instagram: https://www.instagram.com/uncorkingastory/
TikTok: https://www.tiktok.com/@uncorkingastory
Twitter: https://twitter.com/uncorkingastory
Facebook: https://www.facebook.com/uncorkingastory
LinkedIn: https://www.linkedin.com/company/uncorking-a-story/
If you like this episode, please share it with a friend. If you have not done so already, please rate and review Uncorking a Story on Apple Podcasts, or wherever you get your podcasts.
#AuthorJourney #WritingInspiration #OvercomingImposterSyndrome #AncientRome #MythologyExploration #FantasyMovies #TikTokStruggles #WritingCommunity #PodcastEpisode #UncorkingAStory #greekmythology #medusa #medusassisters