Elevator pitches are critically important when selling your book. Ideally, you'd answer the question, "So, what's your book about?" with a one sentence description that gets the agent/publisher/reader interested in knowing more. Today's guest, Karen McManus, used "It's like the breakfast club, but with murder," as her elevator pitch for One of Us is Lying and that's when I knew I had to have her on the show. 
Meet Karen McManus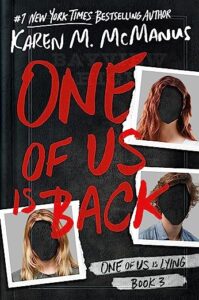 Karen M. McManus is a #1 New York Times and international bestselling author of young adult thrillers. Her books include the One of Us Is Lying series, which has been turned into a television show on Peacock, as well as the standalone novels Two Can Keep a Secret, The Cousins, You'll Be the Death of Me, and Nothing More to Tell. Karen's critically acclaimed, award-winning work has been translated into more than forty-two languages. She joined me on Uncorking a Story to talk about her career and latest book, One of us is Back.
Key Topics
00:00:00 Introducing Karen McManus
00:01:15 Karen's Journey as an Author Begins: From a Young Reader to a Frustrated Writer
00:06:32 The Importance of Persistence and Growth in Writing
00:09:26 Why Elevator Pitches are so Important
00:11:37 The Unfinished Plot: A Cut Plot Thread that Inspired a New Story
00:24:11 Finding Fulfillment in Unpaid Passion and Its Transition Into a Rewarding Career
Buy One of Us is Back
Amazon: https://amzn.to/3r9KM1C
Bookshop.org: https://bookshop.org/a/54587/9780593485019
Connect With Karen
Website: https://www.karenmcmanus.com/
Twitter: https://twitter.com/writerkmc
Instagram: https://www.instagram.com/writerkmc/
Connect with Mike
Website: https://uncorkingastory.com/
Youtube: https://www.youtube.com/channel/UCSvS4fuG3L1JMZeOyHvfk_g
Instagram: https://www.instagram.com/uncorkingastory/
TikTok: https://www.tiktok.com/@uncorkingastory
Twitter: https://twitter.com/uncorkingastory
Facebook: https://www.facebook.com/uncorkingastory
LinkedIn: https://www.linkedin.com/company/uncorking-a-story/
If you like this episode, please share it with a friend. If you have not done so already, please rate and review Uncorking a Story on Apple Podcasts, or wherever you get your podcasts.