Josh Winning is the author of the critically acclaimed The Shadow Glass. He is a senior film writer at Radio Times, has written for Total Film for over a decade, and is the co-host of movie podcast Torn Stubs. During his years as a film journalist, he has been on set with Kermit the Frog (and Miss Piggy), devoured breakfast with zombies on The Walking Dead, and sat on the Iron Throne on the Dublin set of Game of Thrones. Josh lives in London with his cat Penny and dreams of one day convincing Sigourney Weaver to yell "Goddammit!" at him. He joined me on Uncorking a Story to talk about his latest book, Burn the Negative. 
Key Takeaways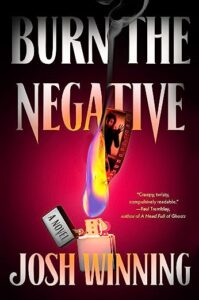 1. The importance of perseverance: Josh Winning's journey as an author is filled with stops and starts, but he never gave up on his dream of writing books and stories. Listeners will learn that it takes determination and persistence to overcome obstacles and achieve success in the writing world.
2. The power of journalism in shaping authorship: Josh highlights how his background in journalism has influenced his approach to writing. Listeners will discover the value of precision, conciseness, and the ability to convey meaning effectively through writing, skills that can be transferred from journalism to authorship.
3. The benefits of a collective approach to writing: Drawing from his experience as a film journalist, Josh emphasizes the advantages of adopting a collective mindset when creating content. Listeners will understand the value of considering different perspectives and collaborating with others to enhance their writing and storytelling abilities.
4. Finding inspiration in unexpected places: Josh's fascination with cursed movies and his love for eighties fantasy films demonstrate that inspiration can come from unconventional sources. Listeners will be encouraged to explore diverse genres, mediums, and themes to find unique and captivating ideas for their own writing projects.
5. The transformative power of passion: Josh's lifelong love for Ripley from the Alien films showcases the impact that a deep passion for a character or story can have on one's writing journey. Listeners will be inspired to embrace their own passions and allow them to fuel their creativity and drive as writers.
Buy Burn the Negative
Amazon: https://amzn.to/44j3WRl
Bookshop.org: https://bookshop.org/a/54587/9780593544662
Connect With Josh
Website: https://joshuawinning.com/
Twitter: https://twitter.com/JoshWinning
Facebook: https://www.facebook.com/JoshWinningAuthor
Instagram: https://www.instagram.com/joshuawinning/
Connect with Mike
Website: https://uncorkingastory.com/
Youtube: https://www.youtube.com/channel/UCSvS4fuG3L1JMZeOyHvfk_g
Instagram: https://www.instagram.com/uncorkingastory/
TikTok: https://www.tiktok.com/@uncorkingastory
Twitter: https://twitter.com/uncorkingastory
Facebook: https://www.facebook.com/uncorkingastory
LinkedIn: https://www.linkedin.com/company/uncorking-a-story/
If you like this episode, please share it with a friend. If you have not done so already, please rate and review Uncorking a Story on Apple Podcasts, or wherever you get your podcasts.