Giving yourself the right to write badly is excellent advice for aspiring and established authors. Writing is a muscle which has to be exercised in order to get stronger. Not everything we write will be gold, but every rep serves a purpose—to make our writing stronger. This is just one of the lessons I learned from today's guest, Jennifer Cody Epstein. 
Meet Jennifer Cody Epstein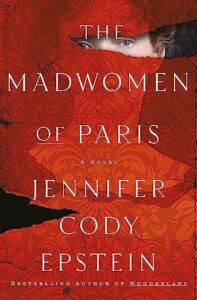 Jennifer is the internationally bestselling author of The Painter from Shanghai, Wunderland, and The Gods of Heavenly Punishment, which won the Asian/Pacific American Honor Award for Literature for Adult Fiction. She has written for The Wall Street Journal, Vogue, Self, Mademoiselle, and others. She joined me on Uncorking a Story to discuss her latest novel, The Mad Woman of Paris.
Key Takeaways
The importance of feedback and confidence in writing: Jennifer discusses how receiving honest feedback and having confidence in your writing are crucial for growth and improvement as a writer. She emphasizes the value of having a supportive writing community that can provide constructive criticism and encouragement.

The collaborative aspect of writing: Epstein highlights the collaborative nature of writing and how it can enhance creativity and the quality of the work. She shares her experiences of collaborating with other writers and the benefits of bouncing ideas off each other, brainstorming, and offering different perspectives.

Generosity and empathy in the writing community: Jennifer emphasizes the generosity and empathy that exists within the writing community. She discusses how writers often support and mentor each other, even if they may be considered competitors. This sense of empathy stems from the understanding of the challenges and difficulties that come with being a writer.

Exploring historical fiction themes: Epstein delves into her latest novel, "The Mad Woman of Paris," and discusses the exploration of themes such as hypnosis and hysteria in historical fiction. She sheds light on the neglected well-being of female hysteria ward patients and the critical examination of ignored and fetishized women in history.

Overcoming doubts and the importance of writing: Epstein shares her insights on the importance of writing and the need to overcome self-doubt. She encourages aspiring writers to have faith in their abilities and to turn to friends and the writing community for support. She emphasizes the perseverance required to continue writing, even during challenging times.
Buy The Mad Woman of Paris
Amazon:https://amzn.to/3rxrFyY
Bookshop.org: https://bookshop.org/a/54587/9780593158005
Connect With Jennifer
Website: https://jennifercodyepstein.com/
Facebook: https://www.facebook.com/jennifer.c.epstein
Twitter: https://twitter.com/JennCodyEpstein
Instagram: https://www.instagram.com/jennepstein/
Connect with Mike
Website: https://uncorkingastory.com/
Youtube: https://www.youtube.com/channel/UCSvS4fuG3L1JMZeOyHvfk_g
Instagram: https://www.instagram.com/uncorkingastory/
TikTok: https://www.tiktok.com/@uncorkingastory
Twitter: https://twitter.com/uncorkingastory
Facebook: https://www.facebook.com/uncorkingastory
LinkedIn: https://www.linkedin.com/company/uncorking-a-story/
If you like this episode, please share it with a friend. If you have not done so already, please rate and review Uncorking a Story on Apple Podcasts, or wherever you get your podcasts.