I love it when conversations go to unexpected places and today's does just that. I didn't anticipate speaking about the passing of my brother but doing so with today's guest, author Jane L. Rosen simply felt right given one of the core themes of her latest novel, On Fire Island.
Meet Jane L. Rosen
Jane is an author, screenwriter and former Huffington Post contributor. Jane often takes inspiration from real-life stories and interviews to craft her novels. Her first novel Nine Women, One Dress was translated into ten languages. Her second novel Eliza Starts a Rumor has been optioned by NBC. She joined me on Uncorking a Story to discuss her  latest book, On Fire Island.
Key Topics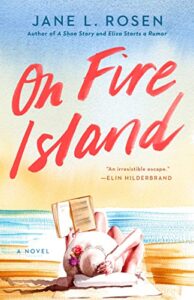 The power of starting small: Jane emphasizes the importance of taking small steps when pursuing creative endeavors, such as writing a memoir or a novel. By breaking down the process into manageable tasks, aspiring writers can make significant progress and build confidence along the way.

The inspiration behind "On Fire Island": Jane shares her personal journey and reveals that "On Fire Island" is the book she has always wanted to write. Listeners will learn about the themes of community, love, and self-discovery that are explored in the novel.

The impact of writing on self-discovery: Through her writing, Jane has discovered that she is sensitive to criticism. This realization has allowed her to grow and become better at handling feedback. Listeners will understand the transformative power of writing and how it can lead to personal growth.

The importance of encouragement for aspiring writers: Jane believes in offering support and encouragement to aspiring writers, especially the younger generation. She shares her experiences of helping young adults with their writing and providing feedback on their work. Listeners will be inspired to uplift and support aspiring writers in their own lives.

Finding joy and laughter in the face of grief: Listeners will be reminded of the power of laughter and how stories can provide a different perspective on death and mourning.
Buy On Fire Island
Amazon: https://amzn.to/3Pc5ohY
Bookshop.org: https://bookshop.org/a/54587/9780593546109
Connect With Jane
Website: https://janelrosen.com/
Facebook: https://www.facebook.com/janelrosenauthor
Twitter: https://twitter.com/janelrosen1
Instagram: https://www.instagram.com/janelrosen/
Connect with Mike
Website: https://uncorkingastory.com/
Youtube: https://www.youtube.com/channel/UCSvS4fuG3L1JMZeOyHvfk_g
Instagram: https://www.instagram.com/uncorkingastory/
TikTok: https://www.tiktok.com/@uncorkingastory
Twitter: https://twitter.com/uncorkingastory
Facebook: https://www.facebook.com/uncorkingastory
LinkedIn: https://www.linkedin.com/company/uncorking-a-story/
If you like this episode, please share it with a friend. If you have not done so already, please rate and review Uncorking a Story on Apple Podcasts, or wherever you get your podcasts.
#EmpoweringWriters #EncouragementMatters #SupportingYoungAuthors #WritingCommunity #GenerosityOfWriters #BeachReads #BedtimeWriting #BibliophileAddictions #FindingYourPath #JourneyOfDiscovery #Adaptation #UncorkingAStory #JaneRosen