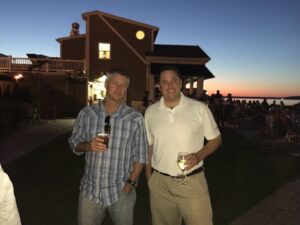 On Sunday, I was getting ready to go for a run through Waveny park here in New Canaan when my mother asked me, "Michael, are your shoes tied?" I thought, that is a funny question to ask a 48 year old man, and it stayed in my head as I was starting my run. As I ran down a certain trail, adjacent to the pond near the old cornfield, it hit me—Greg taught me how to tie my shoes. Maybe, just maybe, he was speaking through my mother.
It was the first day of kindergarten so I must have been 5 years old and he came up to me—which was strange because back then, he really didn't interact with me and Jimmy all that much except to over power us, grab our hands, and make us start punching ourselves while repeating, "Why are you punching yourself?"
Well, that day he asked if I knew how to tie my shoes. I said no. He then proceeded to teach me how to do this simple, but very useful skill. Once he was satisfied that I was now a shoe tying expert, he looked at me and said, "No do 10 pushups and then do ten pushups every day before school because you are too soft for kindergarten."
Too soft for kindergarten? Finger painting? Learning your ABCs? Doing basic math? How can one be too soft for that? We were going to St. Gregory's elementary school, not Shawshank. My teacher was Mrs. McManus, not that crooked Warden Norton. Who says that to a five year old? Well, that's my brother Gregory. He didn't want soft brothers.
Tying my shoes was the first of many important lessons Greg would go on to educate me on. Others include how to sneak rum into a movie theater, and the Glenville Wine and Spirits classics how to count back change, how to dust wine bottles on a shelf, how to wrap gifts, and, of course, how to sweep a floor the right way. Rumor has it, the character Mr. Carson on Downton Abbey was inspired by one Gregory Michael Carlon, down to the ruler he would use to make sure the bottles were aligned properly on the shelves of his stores.
Greg taught me about good music, and I have fond memories of going to see bands and artists like U2, B.B. King, Peter Frampton, and, of course, Jimmy Buffett with Greg. He taught me about how to be a good friend, the ins and outs of wines, and why it's okay to walk out of a restaurant when the service is sub par. But the greatest thing he ever taught me was how to love. And he not only showed me that by being a great brother and a great son, but through his roles as father and husband.
My family likes to vacation on Chatham in Cape Cod and one year our schedules aligned and Greg and Carolyn came up with their girls. Greg and I wound up at the playground at Veterans field where the Chatham A's play in the Cape Cod baseball league and the smile on his face when he pushed Emma on a swing told me everything I needed to know about how much Greg enjoyed being a father. His girls, Emma and Elizabeth, are the truest reflection of himself from their blue eyes, freckles, and smiles that light up a room. I know they carry more than just a little bit of my brother inside them.
In addition to genetics, my brother has shared and passed down his love of cooking, baking, bugs, and music to his girls. Rumor has it Elizabeth wants to catch a snake this summer. I know he wants so much for you to do what they love most in this world and not worry what other people think. Two things are very true of my brother—he suffered no fools and he did things his way without worrying what others thought of him. He is as authentic as they come; perhaps the most authentic person I know or ever will know. 
And listen, girls, I know your father wanted to teach you how to drive and may have started driving lessons before you were technically legal to do so. Please know this, you have many aunts, uncles, and cousins who will help teach you how to drive, but there's one Uncle whose advice you may want to take with a grain of salt. I won't point fingers and say who that is, but his name rhymes with shimmy.
For Emma and Elizabeth, Greg was always there to watch a favorite show or make a favorite meal; even on his hardest day. If a request came in for Carbonara or chicken soup, he would make it happen. I'm told the best nights in their house included the smell of food, music blasting from the kitchen or patio, and impromptu dance parties where his happy feet would make the family laugh.
Before he was a father though, Greg was a husband, and he and Carolyn are more than just husband and wife—they are soulmates. I remember the look on Greg's face when we would see Carolyn at the old World's Gym in Glenbrook. Greg used to tell me he thought she had the face of an angel but he was too shy to go talk to her, and perhaps a bit intimidated too since she'd come and leave with this statuesque and handsome guy who, it turns out, was, thankfully, her brother. 
Together, their love is the stuff that poetry and love songs are inspired by. Carloyn told me, "He always pushed me to be better because he could see potential even when I couldn't. His love, and my love for him, gave me strength to do more than I thought I was capable of." And together, they did many, many hard things; particularly when in sickness and in health became, "In sickness."
Carolyn has said, "We discussed so many times how the words "I love You" didn't do our feelings for each other justice. Those words morphed into, "I got you" which translates to, "I understand you, I feel you, I support you, and I will always love you." Love was not just an emotion between Carolyn and Greg—it was a verb, meaning it was demonstrated in actions of affection and selflessness, even at the hardest of times. Yes, love is a verb.
As a family, there were many terms of endearment in the household. The girls would call Greg "Cool" instead of dad. This is more than appropriate for me as, growing up, Greg was literally the coolest guy I knew. He dressed well, always had a sharp haircut, and was just an all around great guy. All of my friends would tell me he's the coolest guy they knew. How right they were.
While we are talking about nicknames, if Greg ever gave you one, you knew you were in his inner circle. And, more than that, if he used Carlon Slang in front of you, and by that I mean words that are not technically in the English language, or any language really, to communicate with you or make you laugh, you had made it into his "Gang." I loved being part of Cool and the Gang.
Greg is loved by so many people—from the day he was born and transformed my parents from husband and wife to mother and father he was blanketed in love in its purest form. He took that love in and exhaled it and we are all, everyone gathered in this church, better people for having known him. Love's sibling is gratitude and I'd be remiss not to mention another lesson Greg taught me, even as he approached his moment of surrender—to always express your gratitude. And Greg did this, especially to those who poked and prodded him and made him feel uncomfortable. Do you know what he said to those people? Two very simple words. Thank You. He was so gracious, even when he really didn't need to be. That was my brother.
June 21st was the longest day of the year, and oh my goodness did it feel that way. But the thing about the summer solstice is that it fills the world with the most light and energy and, on that day this year, more light and energy was given back to the world when my brother went to his eternal reward. I honestly believe that my nieces have two angels looking out for them; one in heaven frying meatballs with their great grandmother (who was really awesome by the way), and one on earth who was nicknamed Angelica over 25 years ago at a gym in Glenbrook.
Words cannot express how much I will miss my brother and I know you all will too. But, selfishly, I feel so incredibly blessed for having known him and for all the time I've been able to share with him over the years. We cannot take anything from this life to the next, except one thing—Love. I believe that love lives on even after our time on Earth has ended. It lives on in Emma and Elizabeth, it lives on in Carolyn. It lives on in my mom and dad and brother and sister. And it lives on in the lives of all the people who are here to celebrate his life.  May God bless you all…and, as Greg would say, Minga.