I've long believed that curiosity is one of the most powerful superpowers that authors wield. Thinking it through more, curiosity may help us craft interesting plots, but its nothing without relatability. If our storylines are not relatable to readers, all of the curiosity in the world is useless. That's one of the lessons I learned from today's guest, Chris Ehrlich.
Meet Chris Ehrlich
Chris is an author, entrepreneur, husband, dad of 3, and tennis hacker. He holds a degree in English and political science from Denison University and joined me on Uncorking a Story to discuss first book, Parts of a Life: 40 Stories on Youth to Adulthood. 
Key Takeaways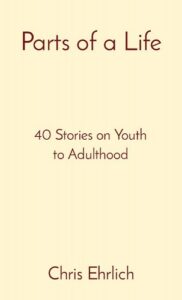 Relatability: Chris emphasizes the importance of making stories relatable to a wide audience. By avoiding a first-person perspective and focusing on universal experiences like school, family, and relationships, he aims to create stories that anyone can connect with.

Narrowing Down Topics: When discussing his book, Chris faced the challenge of narrowing down the topics he wanted to cover. He wanted to explore various subjects but decided to focus on one topic per chapter to ensure a diverse range of stories and subjects.

Positive Feedback: Chris expresses gratitude for the positive feedback he received from readers and acquaintances. The support and favorable reactions to his book have been gratifying and encouraging for him as a writer.

Discovering Writing Style: Through the process of writing his first book, Chris discovered his unique style of poetic short stories. He encourages aspiring writers to experiment with different writing styles and find their voice early on to pave the way for future literary success.

Reflection and Enjoyment: Writing his book allowed Chris to reflect on his life experiences and appreciate them in a bigger sense. He found pleasure in reliving those moments and realized the significance of events that he may have initially downplayed.
Buy Parts of a Life
Amazon: https://amzn.to/3E15eFj
Bookshop.org: https://bookshop.org/a/54587/9798987610329
Connect With Chris
Website: https://chrisehrlich.substack.com/ 
Twitter: https://twitter.com/chris_ehrlich
Instagram: https://www.instagram.com/chris_ehrlich
Connect with Mike
Website: https://uncorkingastory.com/
Youtube: https://www.youtube.com/channel/UCSvS4fuG3L1JMZeOyHvfk_g
Instagram: https://www.instagram.com/uncorkingastory/
TikTok: https://www.tiktok.com/@uncorkingastory
Twitter: https://twitter.com/uncorkingastory
Facebook: https://www.facebook.com/uncorkingastory
LinkedIn: https://www.linkedin.com/company/uncorking-a-story/
If you like this episode, please share it with a friend. If you have not done so already, please rate and review Uncorking a Story on Apple Podcasts, or wherever you get your podcasts. 
#ChrisEhrlich #BloggingtoDMing #ConnectingwithReaders #DigitalAge #UncorkingAStory #PodcastEpisode #Storytelling #AuthorLife #WritingCommunity #SocialMedia #ContentCreation #BookLovers #PodcastRecommendation #StorytellerInterview #InspiringStories #CreativeJourney #AuthorInterview #WritingTips #BookBloggers #PodcastListeners