Everything I know about the criminal justice system I learned from Law and Order. Seriously, I've watched so much of it I feel as if I have a JD from L&O University! Well, what do you do when the police show up at your door with a search warrant when you know you are innocent of any wrongdoing? Today's guest, Will Young, found out the hard way that life doesn't imitate art.
Meet Will Young
Will is a dynamic motivator, author, and public speaker who delivers keynotes throughout the world. His books, plays, scripts, and short stories are about real-life events that move, challenge, and inspire people of all ages. He joined me on Uncorking a Story to talk about his life and memoir The Unlikely Felon: A Memoir of Ambition, Elder Care and Jail. 
Key Themes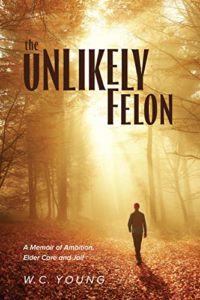 Will Young's book, "The Unlikely Felon: A Memoir of Ambition, Elder Care, and Jail," is a powerful and inspiring story that delves into real-life events. It explores themes of ambition, the challenges of caring for elderly loved ones, and the consequences of his actions that led to his time in jail.

Will emphasizes the importance of documenting important conversations and getting everything in writing, especially in business dealings. This advice can help protect oneself and ensure clarity in any agreements or transactions.

Will's journey from rock bottom to remarkable serves as a testament to his resilience and personal growth. He has rebuilt his life, career, and relationships, becoming a better father, husband, brother, and friend. This transformation has given him a new perspective on life and a deeper appreciation for the lessons learned from his past mistakes.

Will's experience has taught him the value of being authentic and transparent. He now approaches his interactions and public speaking engagements with a genuine and open demeanor, inspiring others with his story of redemption and personal growth.

If Will's experience has taught him anything, it is that, in times of trouble, you really do find out who your friends are. Will was shocked to see his closest friends abandon him and surprised at who came out of the woodwork to help support him and his family.
Buy The Unlikely Felon: A Memoir of Ambition, Elder Care and Jail
Amazon: https://amzn.to/460gfDf
Bookshop.org: https://bookshop.org/a/54587/9781667819471
Connect With Will
Website: https://www.unlikelyfelon.com/
Facebook: https://www.facebook.com/billyounginspires
Twitter: https://twitter.com/billyoung
Connect with Mike
Website: https://uncorkingastory.com/
Youtube: https://www.youtube.com/channel/UCSvS4fuG3L1JMZeOyHvfk_g
Instagram: https://www.instagram.com/uncorkingastory/
TikTok: https://www.tiktok.com/@uncorkingastory
Twitter: https://twitter.com/uncorkingastory
Facebook: https://www.facebook.com/uncorkingastory
LinkedIn: https://www.linkedin.com/company/uncorking-a-story/
If you like this episode, please share it with a friend. If you have not done so already, please rate and review Uncorking a Story on Apple Podcasts, or wherever you get your podcasts.
#AuthorInterview #InspiringStories #Memoir #LifeJourney #MotivationalSpeaker #TrueStory #BookTalk #PodcastInterview #UncorkingAStory #WritingCommunity #Nonfiction #PersonalTransformation #OvercomingAdversity #Ambition #Resilience #FelonyToFreedom #BehindTheScenes #RealLifeEvents #PublicSpeaker #BookRelease