Writing is a dynamic and ever-evolving process. By embracing change and finding inspiration in unexpected places, you can breathe new life into your writing. Just ask Stephanie Cowell, whose latest book, A Boy in the Rain, was started over forty years ago. It was only recently that Stephanie felt as if she could finish it, which just goes to show that all of the book we have within us will come out on their time, not necessarily our time.
Meet Stephanie Cowell
Stephanie has been an opera singer, balladeer, and founder of Strawberry Opera and other arts venues, including a Renaissance festival and an outdoor arts series in New York City. She is the author of Nicholas Cooke, The Physician of London, The Players: A Novel of the Young Shakespeare, Marrying Mozart, and Claude & Camille: A Novel of Monet. Her work had been translated into nine languages and adapted into an opera. Stephanie is also the recipient of an American Book Award. She joined me on Uncorking a Story to talk about her career and latest book, The Boy in the Rain.
5 Key Takeaways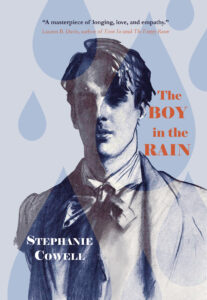 Stay Open to Pivoting: Just like Stephanie experienced, be open to changing your plans and embracing unexpected turns in your writing. Allow your characters and story to guide you, even if it means deviating from your original outline. By remaining flexible, you may discover new and exciting directions for your narrative that you hadn't considered before.

Revisit Old Works: Stephanie's latest book is something she started forty years ago. Spend some time to dust off those forgotten manuscripts and breathe new life into them. With fresh perspectives and experiences, you might find that these older works can be transformed into something extraordinary.

Seek Feedback and Immediate Reactions: Unlike performing on stage, writing often lacks immediate feedback. However, it's crucial to seek feedback from trusted sources to gauge the impact of your work. Join writing groups, share your drafts with beta readers, or participate in workshops to receive constructive criticism. These insights will help you refine your writing and understand how your stories resonate with others.

Embrace the Delayed Reactions: While immediate reactions are gratifying, writing offers a unique experience of delayed reactions. Embrace the anticipation and uncertainty that comes with waiting for readers' responses. Remember that the impact of your words can unfold over time, and the delayed reactions can be just as rewarding as immediate ones.

Embrace Change in Life: Writing is deeply intertwined with life experiences. Embrace the changes and challenges that come your way, as they can fuel your creativity and enrich your storytelling. Allow personal growth, relationships, and unexpected events to shape your writing journey. Embracing change in life will bring depth and authenticity to your stories.
Buy The Boy in the Rain
Amazon: https://amzn.to/47qunGG
Bookshop.org: https://bookshop.org/a/54587/9781646033492
Connect With Stephanie
Website: https://www.stephaniecowell.com/
Twitter: https://twitter.com/StephanieCowell
Instagram: https://www.instagram.com/cowell.stephanie/?hl=en
Connect with Mike
Website: https://uncorkingastory.com/
Youtube: https://www.youtube.com/channel/UCSvS4fuG3L1JMZeOyHvfk_g
Instagram: https://www.instagram.com/uncorkingastory/
TikTok: https://www.tiktok.com/@uncorkingastory
Twitter: https://twitter.com/uncorkingastory
Facebook: https://www.facebook.com/uncorkingastory
LinkedIn: https://www.linkedin.com/company/uncorking-a-story/
If you like this episode, please share it with a friend. If you have not done so already, please rate and review Uncorking a Story on Apple Podcasts, or wherever you get your podcasts.
#FlexibilityInWritingAndLife #MusicalJourney #GenderIdentity #WritingInspiration #NewYorkMemories #TelevisionPreferences #RespectedActor #EmbracingChange #MozartEnthusiast #FamilyLegacy #SocialMediaPresence #StephanieCowell #Uncorkingastory $LGBTQ+