On today's episode of Uncorking a Story, Author Shannon Duncan discusses the use of psychedelics as a tool for healing trauma, particularly childhood trauma and complex PTSD. The conversation revolves around the idea that psychedelics can be used to unlock the subconscious and help individuals process their trauma in a way that traditional talk therapy may not be able to achieve. The speakers caution that finding a qualified therapist who is experienced in dealing with trauma and has done their own deep work on psychedelics is crucial, as there are many unqualified individuals operating in the gray market who can be dangerous. The conversation also touches on the recreational use of psychedelics and how it differs from their therapeutic use.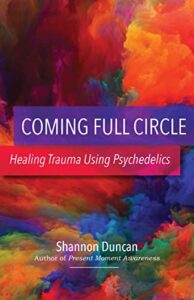 Meet Shannon Duncan
Shannon Duncan is an entrepreneur and the author of "Present Moment Awareness." He  lives in California finding his way to an authentic expression of himself, including and especially his sense of humor, has been the most rewarding aspect of healing from trauma. He joins me today on Uncorking a Story to discuss his latest book, Coming Full Circle: Healing Trauma Using Psychedelics. Welcome to Uncorking a Story Shannon.
Key Topics
00:00:00 Introducing Shannon Duncan
00:05:21 Healing Trauma With Psychedelics – An Author's Personal Journey
00:06:29 Personal Psychedelic Experimentation And Guided Sessions Lead To Growth And Healing for Shannon
00:10:08 The Concept Of Complex PTSD
00:11:23 Exploring Psychedelics as A Healing Option: A Discussion On Trauma And Therapy
00:16:41 Psychedelics as a Tool For Unlocking The Subconscious
00:19:51 Healing Through Psychedelics and Self-release
00:21:37 Healing Trauma And Using Psychedelics To Treat Addiction
00:25:40 Identifying Qualified Psychedelic Therapists In The Gray Market
00:27:04 Getting To Know Shannon Through Pop Culture: Tv Show Favorites With Shannon
Buy Coming Full Circle: Healing Trauma Using Psychedelics
Amazon: https://amzn.to/3LstRiy
Bookshop.org: https://bookshop.org/a/54587/9781959254041
Connect With Shannon
Website:  https://shannonduncan.com/
LinkedIn: https://www.linkedin.com/in/shannon-duncan-author/
Connect with Mike
Website: https://uncorkingastory.com/
Youtube: https://www.youtube.com/channel/UCSvS4fuG3L1JMZeOyHvfk_g
Instagram: https://www.instagram.com/uncorkingastory/
TikTok: https://www.tiktok.com/@uncorkingastory
Twitter: https://twitter.com/uncorkingastory
Facebook: https://www.facebook.com/uncorkingastory
LinkedIn: https://www.linkedin.com/company/uncorking-a-story/
If you like this episode, please share it with a friend. If you have not done so already, please rate and review Uncorking a Story on Apple Podcasts, or wherever you get your podcasts.