Sometimes it takes a while to find out who we truly are, particularly if we didn't give ourselves the time to explore life prior to settling down and starting a family. Those of us who did that young may find that, after our kids have grown, we really don't know who we are. Today's guest, Melissa Giberson, discusses her experiences coming out as a lesbian well into her 40s after being married and raising her children. I found myself captivated and moved by her story, especially how she describes her ex husband's reaction to her big news. But that is her story to share.
Meet Melissa Giberson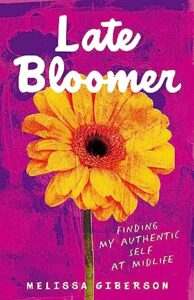 Melissa is an author and occupational therapist. As a storyteller, she captures moments by taking pictures and writing. Her essays have appeared online and in print in numerous publications, and she received an Honorable Mention in the Memoirs/Personal Essays category of the 91st Annual Writer's Digest Writing Competition. She joined me on Uncorking a Story to discuss her memoir, Late Bloomer: Finding My Authentic Self at Midlife.
Key Takeaways
1. The power of vulnerability: Melissa's decision to reveal her true self and embrace her authentic identity serves as a powerful reminder that being vulnerable can lead to personal growth and stronger relationships.
2. Overcoming fear and embracing change: Melissa's story highlights the courage it takes to face fears and make difficult choices in order to live a more fulfilling life. Her journey serves as an inspiration for listeners who may be facing similar challenges.
3. The healing power of storytelling: Through her writing, Melissa found solace and healing during difficult times. Listeners will learn how storytelling can be a therapeutic outlet for complex emotions and a means of connecting with others.
4. The importance of family bonds: Melissa's strong relationship with her children and their father showcases the significance of open communication, acceptance, and support within a family. Listeners will be inspired to nurture and strengthen their own family connections.
5. Embracing personal growth at any age: Melissa's journey of self-discovery began later in life, proving that it's never too late to embark on a path of personal growth and reflection. Listeners will be encouraged to embrace change and pursue their own journeys of self-discovery, regardless of their age or circumstances.
Buy Late Bloomer
Amazon: https://amzn.to/3NMvzLL
Bookshop.org: https://bookshop.org/a/54587/9781647425197
Connect With Melissa
Website: https://melissagiberson.com/
Facebook: https://www.facebook.com/profile.php?id=100076525767684
Instagram: https://www.instagram.com/melissagiberson031/
Twitter: https://twitter.com/LateBloomer823
LinkedIn: https://www.linkedin.com/in/melissa-giberson-3a1238261/
Connect with Mike
Website: https://uncorkingastory.com/
Youtube: https://www.youtube.com/channel/UCSvS4fuG3L1JMZeOyHvfk_g
Instagram: https://www.instagram.com/uncorkingastory/
TikTok: https://www.tiktok.com/@uncorkingastory
Twitter: https://twitter.com/uncorkingastory
Facebook: https://www.facebook.com/uncorkingastory
LinkedIn: https://www.linkedin.com/company/uncorking-a-story/
If you like this episode, please share it with a friend. If you have not done so already, please rate and review Uncorking a Story on Apple Podcasts, or wherever you get your podcasts.