I've long believed that writing is therapeutic but for author Lynn Hightower, it became her path of survival during a difficult period in her life. She explains that writing helped her escape the real world and allowed her to express her opinions on grief and hearing loss through her characters. So, writing isn't done just for the benefit of readers, but for us authors as well!
Meet Lynn Hightower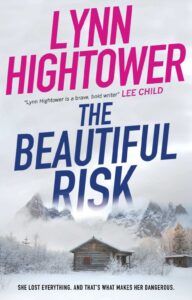 Lynn Hightower is the author of numerous thrillers, including the Sonora Blair and Lena Padget detective series. Her internationally-bestselling novels have been included in the New York Times List of Notable Books, the London Times' bestseller lists, the WH Smith Fresh Talent Awards, and the Shamus award. She also teaches Master Novel classes in the UCLA Extension Writing Program, and works as a Manuscript Consultant/Writing Coach for novelists.  She joined me on Uncorking a Story to talk about her career and her latest book, The Beautiful Risk.
Key Takeaways
The Power of Encouragement: The episode highlights the impact of a teacher's encouragement on Lynn's writing journey, emphasizing the importance of support and belief in one's abilities. 

Finding Inspiration in Personal Experiences: Lynn's personal experiences, such as her connection with German Shepherds and the loss of her husband, have served as inspiration for her writing. It reminds listeners to draw from their own lives when seeking creative inspiration. 

The Lessons and Gifts of Grief: Lynn discusses the positive aspects and lessons that can be learned from grief, challenging common misconceptions and offering a different perspective on the grieving process. 

The Importance of Rest and Sleep: Lynn emphasizes the significance of uninterrupted sleep and the need to prioritize rest for overall well-being. 

Trusting Intuition: Lynn shares her belief in making decisions based on intuition, highlighting the value of trusting one's instincts and listening to inner guidance. 
Buy The Beautiful Risk
Amazon: https://amzn.to/45x01Rf
Bookshop.org: https://bookshop.org/a/54587/9781448309931
Connect With Lynn
Website: https://www.lynnhightower.com/
Twitter: https://twitter.com/lynnshightower
Instagram: https://www.instagram.com/lynnhightowerauthor/
Facebook: https://www.facebook.com/lynnhightowerauthor/
Connect with Mike
Website: https://uncorkingastory.com/
Youtube: https://www.youtube.com/channel/UCSvS4fuG3L1JMZeOyHvfk_g
Instagram: https://www.instagram.com/uncorkingastory/
TikTok: https://www.tiktok.com/@uncorkingastory
Twitter: https://twitter.com/uncorkingastory
Facebook: https://www.facebook.com/uncorkingastory
LinkedIn: https://www.linkedin.com/company/uncorking-a-story/
If you like this episode, please share it with a friend. If you have not done so already, please rate and review Uncorking a Story on Apple Podcasts, or wherever you get your podcasts.
#Storytelling #WritingJourney #LifeExperiences #GriefAndHealing #SelfCare #EncouragementMatters #InspirationFromWithin #LessonsOfGrief #TrustYourGut #RestfulSleep