I'll admit it, I love watching The Joy of Painting with Bob Ross. Here's the thing, though, I can't draw to save my life, but I am drawn to that show the way some people are drawn to watching fish swim in a tank. He was a talented artist, no doubt, but what I appreciated more than his talent was his calm and serene demeanor which complimented the naturescapes he was fond of painting. One phrase he used often when he may have made unanticipated brush strokes was "Happy little accidents." And a happy little accident is where author Katherine Linn Caire's story begins.
About Katherine Linn Caire
Kathe was born and raised in Des Moines, Iowa. She attended Southern Methodist University in Dallas, Texas, where she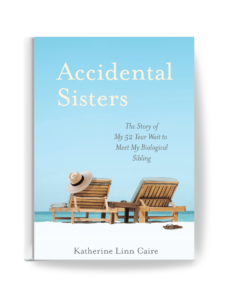 swam for the Mustangs and received her BBA (Finance), with Minors in Art History and Economics. Although her career has spanned the gamut from commercial banking lender to advertising account executive, from calligrapher/artist to tennis official, she has found her true delight in putting pen to paper. She recently joined me to discuss her memoir Accidental Sisters: The Story of My 52-Year Wait to Meet My Biological Sibling.
The happy little accident that set the events of this memoir into motion was when her birth mother's full name was not redacted in a file including her birth parents' health history. Curiosity got the better of her and Kathe did some Googling to try and find her birth mother, but kept hitting wall after wall. One year, for Mother's Day, her daughters gave her a birth mother search as a gift. While it turned out her birth mother had died years earlier, it did reveal something Kathe didn't anticipate—she had a sister.
In our conversation, Kathe and I discuss:
Her belief that divine intervention was at play, bringing her together with her sister.

Why the best gifts are the ones you never anticipated asking for.

What it was like talking and meeting her sister for the first time.

Why your book is never 95% done when you hand it over to your editor.

The importance of collaborating with your content editor to make your book as good as it can be.
"Don't be so sure that you know what you want until you're faced with the situation. I think for many years, I was very sure that having my mom and my dad, my brother, and my grandmother and my grandfather, was all I needed. And that there wasn't really anything more to my life than the family that I had.I did not have any idea whatsoever that I felt the way that I did, until I was actually faced with the situation." — Kathe Caire
Buy: Accidental Sisters:The Story of My 52-Year Wait to Meet My Biological Sibling. 
Amazon: https://amzn.to/3BAbUK8
Bookshop.org: https://bookshop.org/a/54587/9781953865571
Connect with Katherine
Website: https://klcairebooks.com/
Instagram: https://www.instagram.com/skilletfam910/
Facebook: https://www.facebook.com/klcairebooks/
Twitter: https://twitter.com/klcairebooks
Connect with Mike
Website: https://uncorkingastory.com/
Youtube: https://www.youtube.com/channel/UCSvS4fuG3L1JMZeOyHvfk_g
Instagram: https://www.instagram.com/uncorkingastory/
Twitter: https://twitter.com/uncorkingastory
Facebook: https://www.facebook.com/uncorkingastory
LinkedIn: https://www.linkedin.com/company/uncorking-a-story/
If you like this episode, please share it with a friend. If you have not done so already, please rate and review Uncorking a Story on Apple Podcasts, or wherever you get your podcasts.