I love a good story about people who break conventions and today's guest on Uncorking a Story, Jessica Weaver, does just that. Shortly after getting started in the financial planning business, Jessica felt a calling to focus her efforts on women, and wow has that paid off! Along the way she has written three books (with another in the works), built a profitable business, and has changed the financial lives of her clients by taking a holistic approach to planning. Her energy and passion are infectious and it was a real pleasure having her on the show.
Meet Jessica Weaver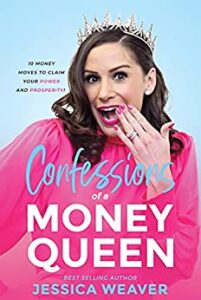 Jessica Weaver, CFP, CDFA, CFS is a wealth advisor, best-selling author, and founder of the Women's Wealth Boutique, the fastest growing woman-owned financial firm in the US. She joined me on Uncorking a Story to talk about her career path, writing, and how she has challenged the conventions of the financial planning industry.
Key Topics:
Why she decided to focus her business on women. 

The importance of being vulnerable when meeting with clients.

Challenging conventions by getting groups of people together and talking about money. 

Why Jessica started writing books.

How Jessica wrote a book in a week.

The spiritual side of money (yes, there is one!).

How to stop self sabotaging your own wealth.
Buy Jessica's Books:
Amazon: https://amzn.to/3vOGj3x
Connect with Jessica Weaver
Website: https://jessicaweaver.com/
LinkedIn:https://www.linkedin.com/in/jessica-weaver-cfp%C2%AE-cdfa%C2%AE-cfs%C2%AE-76538733/
Facebook: https://www.facebook.com/pinkfixmymoney/
Twitter: https://twitter.com/JessicaCWeaver
YouTube: https://www.youtube.com/channel/UCmvauHYM2uKeOywG7RvKi5Q
Connect with Mike
Website: https://uncorkingastory.com/
Youtube: https://www.youtube.com/channel/UCSvS4fuG3L1JMZeOyHvfk_g
Instagram: https://www.instagram.com/uncorkingastory/
TikTok: https://www.tiktok.com/@uncorkingastory
Twitter: https://twitter.com/uncorkingastory
Facebook: https://www.facebook.com/uncorkingastory
LinkedIn: https://www.linkedin.com/company/uncorking-a-story/
If you like this episode, please share it with a friend. If you have not done so already, please rate and review Uncorking a Story on Apple Podcasts, or wherever you get your podcasts.