Jane Healey isn't just a successful author, she also has great taste in TV. During the course of this entertaining conversation, I uncorked her love for The Greatest American Hero, which took us on a fun tangent. Believe it or not, I was walking on air after that.
Meet Jane Healey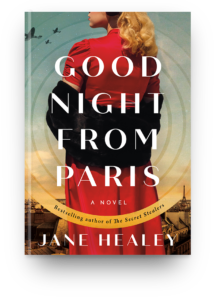 Jane is the author of The Secret Stealers and The Beantown Girls, a Washington Post and Amazon Charts bestseller. When she's not writing, she enjoys spending time with her family, traveling, running, cooking, and going to the beach. She joins me today to talk about her career and latest book Good Night from Paris.
Key Topics:
Giving herself permission to take the time to practice writing.

Advice that you have to be bad at writing before you can become good.

The importance of receiving quality feedback and knowing how to take it.

How to find resources for becoming a better writer without spending lots of money. 

Getting inspired for her 4th novel while writing her third.

Luck and timing when it comes to publishing.

Her advice to not don't stop knocking on doors.

Knowing that writing is a craft and publishing is a business.
Buy Good Night from Paris
Amazon:https://amzn.to/40flvQf
Bookshop.org: https://bookshop.org/a/54587/9781662505294
Connect With Jane
Website: https://janehealey.com/
Amazon: https://amzn.to/3z4pvHr
Instagram: https://www.instagram.com/healeyjane/
YouTube: https://www.youtube.com/channel/UCRNs8TkPdvXXCG-ZZzcvxMA
Podcast: https://www.historicalhappyhour.com/
Connect with Mike
Website: https://uncorkingastory.com/
Youtube: https://www.youtube.com/channel/UCSvS4fuG3L1JMZeOyHvfk_g
Instagram: https://www.instagram.com/uncorkingastory/
TikTok: https://www.tiktok.com/@uncorkingastory
Twitter: https://twitter.com/uncorkingastory
Facebook: https://www.facebook.com/uncorkingastory
LinkedIn: https://www.linkedin.com/company/uncorking-a-story/
If you like this episode, please share it with a friend. If you have not done so already, please rate and review Uncorking a Story on Apple Podcasts, or wherever you get your podcasts.