Every now and then I get a reminder that I'm only human, and that reminder came in the introduction to this episode where I mispronounce the title of my guest's book. Thankfully, Beth Anstandig had a sense of humor about it, and we had a good laugh. It is someone apropos, as laughing is a part of the human experience and that was a big topic of conversation today!
MEET BETH ANSTANDIG
As a self-described life-long cowgirl, licensed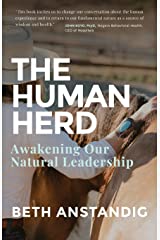 psychotherapist, and professor Beth Anstandig has 25 years of experience developing, implementing and training people in Natural Leadership, a model she pioneered. She's trained thousands of leaders and teams from some of the most renowned corporations, universities, and nonprofits, helping them awaken their innate power and awareness to live, lead, and work with more authentic relationships and connection. Her book, The Human Herd: Awakening our Natural Leadership is available wherever books are sold.
KEY TOPICS IN THIS PODCAST:
How observing animals impacted her life at a very young age.
How she identified and nurtured a love of writing.
Why she pivoted from an academic to becoming a writer.
The Natural Leadership model explained.
The idea behind her book: The Human Herd: Awakening Our Natural Leadership
KEY TAKEAWAYS FROM MY TALK WITH BETH
Curiosity. At an early age, Beth was fascinated by animal behavior and how it differed from that of humans. Her curiosity guided her to her present career where she coaches people on making more authentic connections to others.
Writing as an escape. For Beth, writing has always been a way to escape the hustle and bustle of everyday life. It's a safe place where she can retreat from the outside world and explore her own thoughts and feelings.
The herd. Animals have always been a big part of Beth's life, and she sees something in them that she doesn't see in many humans—honesty and freedom. When Beth watches animals, she feels as though they are living in the moment and not afraid to show their emotions.
Following the human herd. It's important to remember that being honest about our needs is not a sign of weakness, but a strength. It shows that we are confident enough to express ourselves and be vulnerable. When we are honest about our feelings and needs, we open up the possibility for deeper connections with others.
WHERE TO BUY THE HUMAN HERD:
HOW TO GET IN TOUCH WITH BETH
Instagram: https://www.instagram.com/thecircleupexperience/
Website: https://www.thecircleupexperience.com/about/
Linked In: https://www.linkedin.com/in/bethanstandig992861132/
MEMORABLE QUOTES FROM BETH
"Reading poetry has always been huge for me; it really broke down so many barriers and allowed me to find my own voice. Sometimes it was imitating voices or there were lines that would inspire me and serve as a launching place. The more I did that, the more I was becoming part of a family of poetry and feeling like it has its own current like a river. It is important for artists to become part of the world that their art resides in."
If you liked this conversation, please tell a friend about it as well as like, rate, and review Uncorking a Story wherever you get your podcasts.