I learned many personal and professional lessons in 2021. I was truly blessed to interview so many amazing storytellers this past year and am forever grateful to all the publicists and producers who introduced me to all of my amazing guests. This was Uncorking a Story's greatest year because of you. Of note, I'd love to call out Kristin Spillers from the firm Kim from LA who provided the bulk of our guests this year. Thank you Kristin! The below is a summary of 10 insights I've gathered from some of this year's guests along with a link to each conversation. Happy reading (and listening).
Actress and filmmaker Nadine Crocker has a beautiful soul that was almost extinguished during a suicide attempt when she was ust 23 years old. I learned what drove her to the point where she tried to take her own life and how her film Cont;nue is a gift to the world to help us all have better conversations about mental health. 
Author and LCSW Cindy Finch taught me two very important lessons; to have more fun doing my podcast (a lesson she taught by taking over the reins a few times and engaging me) and that grief can be good. She also talked about something I'm keenly interested in—hot monogamy. 
Laura Hankin reminded me that the best stories come from personal experiences. She shared an entertaining story about how working as a children's musician was instrumental in landing a two book deal. For anyone looking to learn how to turn their life's experiences into a bestseller, you definitely don't want to miss this episode. 
We are all because of one event—our parents had sex. I know that's not something many of us like to think about (our parents being practitoners of the sexual arts), but it's the truth, they did it and here we are. Kathy Kay, though, has a show about the non procreational aspects of sexual congress, something she reveals through the anonymous callers on her podcast. In this interview she taught me a bit about how to craft engaging content, build a business as a podcaster, and what she's learned about human beings by diving head first into their sex lives.
David Yoon shared how he made the jump from working in the tech industry to writing Young Adult Fiction and how he made another jump to writing Adult Fiction. Along the way we talked about our shared experiences working in the early days of the Internet industry. Anyone looking to understand how to pivot careers, and even genres, should absolutely listen to this interview with David.
One topic that is near and dear to my heart is care for the elderly. The loss of memory, sometimes referred to as the long goodbye, has impacted the life of some of the people I hold most dear. My conversation with Anne Basting covers how we can better care for those living with cognitive challenges, including memory loss. On a related note, my interview with comedian Dani Klein Modisett gives insights into how comedy can be used to brighten the days of those suffering with dementia and Alzheimer's disease.
When I was a kid, I loved the show Designing Women (there, I said it. So what if I've just given up my man card). When I had the chance to interview one of the star's daughters, I couldn't pass it up. This conversation with Mary Dixie Carter gave me some insight into what it's like to grow up with famous parents, but make no mistake, she doesn't ride the coattails of her lineage. She's an A-List writer and author whose debut novel has been called, "A breathless psychological thriller about mind games," by People Magazine. Funny, some people could say that about many marriages.
My twin brother Jim Carlon taught me about the vulnerability to admit that you need help and what it's like going through the difficult process of seeking help for mental health. He also demonstrated that it is possible to come out on the other side and the courage it takes to share his story with others as a way of encouraging them to get the help they need. Jim's story is a long one so we had to break it up into two parts.
When most people of my generation think of the band Twisted Sister they may think of drag queens, hard rock, and Doug Neidermeyer from Animal House. What they may not think of, though, is the serious business that went on behind the scenes. This interview with Jay Jay French, founding member, guitarist, and manager of the band, takes a deep dive into the lessons he's learned in his decades long career in Rock and Roll. 
Laura Davis had a traumatic childhood, having been abused by her maternal grandfather, which led to a decades long estrangement from her mother. While speaking with her about her memoir The Burning Light of Two Stars, she taught me about how reconciliation can be possible even in spite of the pain of a tumultuous relationship. Listen to our conversation here.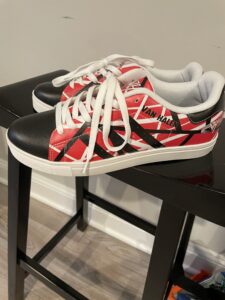 Lastly, there's one additional lesson I've learned in 2021 that was not inspired by one of our guests on Uncorking a Story. One night, while perusing social media, I saw an ad for a pair of sneakers. Now, I've never been one to see a pair of shoes and declare, "I have to have these," but I'm a huge Van Halen fan and, well, there's a first time for everything. So the lesson I learned through this experience is that targeted social media advertising works (and that I shouldn't spend time on social media after a few cocktails).
Thanks for listening in 2021. I've just looked at the publication calendar for 2022 and know it is going to be our best year yet!
— Mike