Today, we have the fabulous Wendy Holden, a British journalist and novelist with global success, joining us to spill the tea on her latest book, "The Princess." We're talking about the ultimate royal celebrity, Diana Princess of Wales, and a fictionalized backstory of her young adulthood. Trust me, this episode is packed with more drama than a reality TV show, so grab your popcorn and get ready to uncork this captivating story with us. Let's dive in, shall we?
Meet Wendy Holden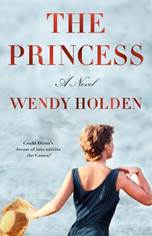 Wendy Holden is a British novelist who has authored ten Sunday Times top ten bestsellers and has sold over three million copies worldwide. She joined me on Uncorking a Story to discuss her latest book, The Princess, which explores the astonishing backstory and young adulthood of the ultimate royal celebrity–Diana, Princess of Wales.
Key Takeaways
Persistence is the name of the game: Wendy's journey into the world of writing wasn't a walk in the park. It took grit, determination, and a whole lot of persistence to break into journalism and eventually become a bestselling novelist. So, my fellow scribes, remember to keep pushing forward, even when the rejection letters start piling up. You got this!

Fictionalize like a boss: Wendy's knack for fictionalizing real events is what sets her novels apart. As writers, we have the power to breathe life into historical figures and create captivating stories around them. So, don't be afraid to put your own spin on reality and let your imagination run wild. Just remember to do your research, because accuracy is key!

Unveil the untold stories: Wendy's exploration of Marian's untold story with the royal family is a prime example of the power of shedding light on lesser-known narratives. As writers, we have the opportunity to give a voice to those who have been overlooked or overshadowed. So, dig deep, uncover those hidden gems, and let their stories shine bright like a literary supernova!

Find your unique angle: Wendy's focused perspective on the early years and events leading to engagement in her novel is a masterclass in finding your niche. As writers, it's crucial to approach a subject from a fresh and unique angle. So, don't be afraid to zig when others zag, and bring your own flavor to the literary feast. Trust me, readers will devour it!

Embrace your roots: Wendy's childhood memories of British television shows and music highlight the importance of embracing your roots. Our upbringing and experiences shape our writing style and voice. So, whether you grew up binging on British sitcoms or jamming to pop songs, let those influences infuse your work. Embrace your quirks, your humor, and your unique perspective. It's what makes you, well, you!
Buy The Princess
Amazon: https://amzn.to/3Qz2XbH
Bookshop.org: https://bookshop.org/a/54587/9780593437308
Connect With Wendy
Website: https://www.wendyholden.net/
Twitter: https://twitter.com/wendy_Holden
Instagram: https://www.instagram.com/wendyholdenauthor/?hl=en
Connect with Mike
Website: https://uncorkingastory.com/
Youtube: https://www.youtube.com/channel/UCSvS4fuG3L1JMZeOyHvfk_g
Instagram: https://www.instagram.com/uncorkingastory/
TikTok: https://www.tiktok.com/@uncorkingastory
Twitter: https://twitter.com/uncorkingastory
Facebook: https://www.facebook.com/uncorkingastory
LinkedIn: https://www.linkedin.com/company/uncorking-a-story/
If you like this episode, please share it with a friend. If you have not done so already, please rate and review Uncorking a Story on Apple Podcasts, or wherever you get your podcasts.
#InspiringAuthors #MotivatedToWrite #RoyalIntrigue #PersistencePaysOff #UnveilingThePast #FindingInspiration #WritingJourney #PassionForStorytelling #AuthorSuccess #RoyalStories #NeverGiveUp #BelieveInYourself #DreamBig #MotivationalSpeaker #PodcastEpisode #WendyHolden #uncorkingastory