Today's episode will leave you questioning whether or not the events that my guest Vincent (Vinnie) Tolman discusses actually happened. I'm okay with that (and so is he). When his publicist reached out with the opportunity to interview someone who was clinically dead for over 45 minutes and in a coma for three days after his heart re-started, I jumped at the chance as I thought it would be a fascinating story to uncork. Whether believe in an afterlife or not I ask you to consider the insights that Vinnie brought had after rejoining the land of the living over twenty years ago and ponder whether or not what he has to say may make your life more complete and whole.
Meet Vincent Tolman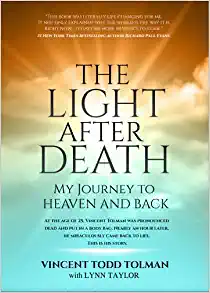 Vincent Todd Tolman was born in Arlington, Texas, and died over 20 years ago, on January 18th, 2003.  Since coming back, he has traveled around the world, living in both Cambodia and Thailand. He has worked as a home builder, computer technician and producer for the television and film industry. He loves animals, meditating, and spending time in nature. His greatest priorities are his relationship to his Creator, his family, and the people he meets. He currently lives in Las Vegas, Nevada with his wife, Andrea, and their two children. Vinnie joined me on Uncorking a Story to discuss his book The Light After Death: My Journey To Heaven and Back: Vincent Tolman's Near Death Experience and Journey to Heaven and Back.
Key Topics:
What his life was like before dying on the floor of a fast-food restaurant in 2003.
The key lessons he learned after crossing over to the other side, including the importance of living an authentic life.
What a spiritual antenna is and the role it plays in living a better life.
The 10 principles Vinnie learned traveling to Heaven
What Vinnie saw in Heaven regarding the souls of children who died way too young. 
Vinnie's proof that what he experienced was real.
Buy The Light After Death:
Amazon: https://amzn.to/3j2Yu2N
Connect Vincent Tolman
Website: https://thelightafterdeath.com/
Instagram: https://www.instagram.com/livinggodslight/
Facebook: https://www.facebook.com/LivingGodsLight
Twitter: https://twitter.com/LivingGodsLigh1
Connect with Mike
Website: https://uncorkingastory.com/
Youtube: https://www.youtube.com/channel/UCSvS4fuG3L1JMZeOyHvfk_g
Instagram: https://www.instagram.com/uncorkingastory/
TikTok: https://www.tiktok.com/@uncorkingastory
Twitter: https://twitter.com/uncorkingastory
Facebook: https://www.facebook.com/uncorkingastory
LinkedIn: https://www.linkedin.com/company/uncorking-a-story/
If you like this episode, please share it with a friend. If you have not done so already, please rate and review Uncorking a Story on Apple Podcasts, or wherever you get your podcasts.