Parenting is supposed to come naturally to us, right? Especially moms! After the baby (or babies in my case) arrives, those motherhood instincts are supposed to kick in and you are supposed to know exactly what to do, right? Wrong! Postpartum depression is real, and many mothers don't realize they are living with it. This leads to feelings of shame, guilt, and oftentimes resentment. Now you may be asking yourself, "Mike is not a mother, why is he talking about postpartum depression?" Well, my guest today, Suzanne Yatim Aslam, was living with postpartum depression and turned to writing to help manage her way through it. This ultimately led to a book called Post Pardon Me, which she came on Uncorking a Story to chat about.
Meet Suzanne Yatim Aslam: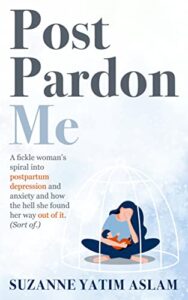 Suzanne is a former actor and Miss Arab USA turned writer. Her personal experience with postpartum depression and anxiety left her feeling alone and confused. In her book Post Pardon Me, she addresses the dark thoughts that so many mothers have but are too scared to say out loud. She's thrilled to get this book into the hands of mothers who may be struggling with postpartum depression and anxiety.
Key Topics:
How Suzanne's mental health changed after becoming a mother.

How she turned to writing and visualization to help process and manage her postpartum depression.

How telling her story not only helped her address her feelings, but how her story has been therapeutic to other women who saw themselves on Suzanne's pages.

Why Suzanne felt as if she had imposter syndrome when going through the publishing process.

Why she'd tell her younger self to not take things so seriously and to play more.
Buy Post Pardon Me:
Amazon: https://amzn.to/3EQk4jF
Connect with Suzanne 
Website: https://www.suzanneyatimaslam.com/
Instagram: https://www.instagram.com/suzyatimaslam/
Connect with Mike
Website: https://uncorkingastory.com/
Youtube: https://www.youtube.com/channel/UCSvS4fuG3L1JMZeOyHvfk_g
Instagram: https://www.instagram.com/uncorkingastory/
Twitter: https://twitter.com/uncorkingastory
Facebook: https://www.facebook.com/uncorkingastory
LinkedIn: https://www.linkedin.com/company/uncorking-a-story/
If you like this episode, please share it with a friend. If you have not done so already, please rate and review Uncorking a Story on Spotify, Apple Podcasts, or wherever you get yours.