This is going to sound funny coming from the author of eight novels, but there was a time I didn't consider myself to be creative. Growing up, I dreaded art class because I can't draw to save my life and I always linked creativity with the ability to draw. On top of that, I was somewhat good at math and science while my twin brother excelled at English (and, aside from being 3 inches taller than me, he could draw!). Why am I bringing this up? Well, my conversation with today's guest, Steven Kowalski, had me taking a walk down memory lane after hearing how he defines creativity as something that isn't an ability but rather a process.
Meet Steven Kowalski: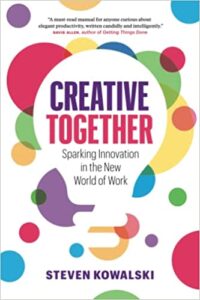 Steven is a leading voice in the global movement for conscious creativity. He has more than 25 years of experience as an organizational development expert facilitating the creativity of scientists, engineers, business leaders, and professionals across industries to blaze new trails, catalyze creative potential, and deliver real-world innovation. He joined me on Uncorking a Story to talk about his career and book, Creative Together: Sparking Innovation in the New World of Work.
Key Topics:
How Steven let this book come through him.

How changing roles inside his company helped fuel the creative impetus for this book.

The relationship between creativity and purpose.

Why it is important to define creativity broadly vs. narrowly.

Why he defines creativity as our natural potential to invent solutions, new approaches to the opportunities we face, or we design for ourselves.
Buy Creative Together: Sparking Innovation in the New World of Work
Amazon: https://amzn.to/3G2KnDC
Bookshop.org: https://bookshop.org/a/54587/9781774581629
Connect with Steven:
Website: https://www.stevenkowalski.com/
Linked In: https://www.linkedin.com/in/stevenkowalski/
Connect with Mike
Website: https://uncorkingastory.com/
Youtube: https://www.youtube.com/channel/UCSvS4fuG3L1JMZeOyHvfk_g
Instagram: https://www.instagram.com/uncorkingastory/
Twitter: https://twitter.com/uncorkingastory
Facebook: https://www.facebook.com/uncorkingastory
LinkedIn: https://www.linkedin.com/company/uncorking-a-story/
If you like this episode, please share it with a friend. If you have not done so already, please rate and review Uncorking a Story on Apple Podcasts, or wherever you get your podcasts.