Many years ago I was taking guitar lessons with a great teacher named Ken Volpe, or Master Ken as I liked to call him. When shooting the breeze over a song one day, I said to him, "I don't like the solo. I would do something differently." He said, "Oh really. Well, put those minor pentatonic scales to use and come up with something different." I simply couldn't do it.
Why am I sharing this embarrassing story? Well, my guest today, Rhys Bowen, tells a similar tale, but with a more favorable outcome. While working in Drama for the BBC, she decided that she didn't like the ending to a play they were running so decided to write her own. With the confidence that only a twenty-two year old amateur playwright could have, she walked down the hall and put it on the head of Drama's desk. A week later she got the call that the BBC was going to do it. Rhy's has been a working writer ever since. She recently joined me on Uncorking a Story to discuss her career and latest novel, Where the Sky Begins. 
Meet Rhys Bowen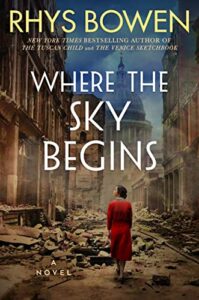 Rhys is the New York Times bestselling author of two historical mystery series as well as the #1Kindle bestseller In Farleigh Field and the international bestseller The Tuscan Child.
Key Topics
The importance of letting your brain rest and percolate in between projects.

Why World War Two provides fertile ground for storytelling.

The importance of play to feed one's inner child.

How writing was therapy for Rhys during the early days of the pandemic.

Rhy's creative trick for preventing writer's block.
Buy Where the Sky Begins
Amazon: https://amzn.to/3zlnSF3
Bookshop.org: https://bookshop.org/a/54587/9781542028868
 Connect with Rhys
Website: https://rhysbowen.com/
Instagram: https://www.instagram.com/authorrhysbowen/
Facebook: https://www.facebook.com/RhysBowenAuthor
Twitter: https://twitter.com/Rhysbowen
Connect with Mike
Website: https://uncorkingastory.com/
Youtube: https://www.youtube.com/channel/UCSvS4fuG3L1JMZeOyHvfk_g
Instagram: https://www.instagram.com/uncorkingastory/
Twitter: https://twitter.com/uncorkingastory
Facebook: https://www.facebook.com/uncorkingastory
LinkedIn: https://www.linkedin.com/company/uncorking-a-story/
If you like this episode, please share it with a friend. If you have not done so already, please rate and review Uncorking a Story on Apple Podcasts, or wherever you get your podcasts.