In my opinion, werewolves don't get enough attention in the horror genre. Vampires are a bit higher on the food chain as are traditional slashers, but when was the last time you could point to a good werewolf character in a horror novel? Well, the wait is over with Rachel Harrison's Such Sharp Teeth!
Meet Rachel Harrison: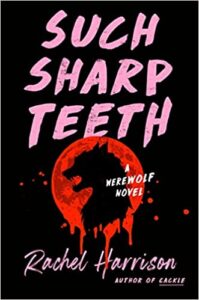 Rachel Harrison took the horror genre by storm with debut novel The Return, which was praised by readers and reviewers and called marvelous by the New York Times. Then, in her highly anticipated sophomore novel, Cackle, she delivered a clever and splendidly witchy look at women's relationships and self-empowerment that was hailed a must-read by USA Today, Elle, Bustle, Buzzfeed and more. She's back with a new novel to get you into the Halloween spirit. SUCH SHARP TEETH is a wild, witty and razor-sharp horror novel about a young woman in need of a transformation who finds herself in touch with the animal inside.
Key Topics:
Why authors shouldn't move the goalposts when celebrating their successes.

Why Rachel chose to write in the horror genre.

Rachel's belief that monsters help create tension easier than other antagonists.

How she used Twitter successfully to find an agent.

Words of advice she'd offer to aspiring authors.
Buy Such Sharp Teeth
Amazon: https://amzn.to/3Voa1rU
Bookshop.org: https://bookshop.org/a/54587/9780593545829
Connect with Rachel Harrison
Website: https://www.rachel-harrison.com/
Instagram: https://www.instagram.com/rachelharrisonsghost/
Twitter: https://twitter.com/rachfacelogic
Connect with Mike
Website: https://uncorkingastory.com/
Youtube: https://www.youtube.com/channel/UCSvS4fuG3L1JMZeOyHvfk_g
Instagram: https://www.instagram.com/uncorkingastory/
Twitter: https://twitter.com/uncorkingastory
Facebook: https://www.facebook.com/uncorkingastory
LinkedIn: https://www.linkedin.com/company/uncorking-a-story/
If you like this episode, please share it with a friend. If you have not done so already, please rate and review Uncorking a Story on Spotify, Apple Podcasts, or wherever you get yours.