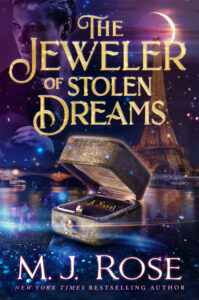 New York Times, USAToday, and Wall St. Journal bestseller, M.J. Rose grew up in New York City mostly in the labyrinthine galleries of the Metropolitan Museum, the dark tunnels and lush gardens of Central Park, and reading her mother's favorite books before she was allowed. She believes mystery and magic are all around us but we are too often too busy to notice. Rose's work has appeared in many magazines including Oprah Magazine and The Adventurine and she has been featured in the New York Times, Newsweek, WSJ, Time, USA Today and on the Today Show, and NPR radio. She joined me on uncorking a story to talk about her career and latest book, The Jeweler of Stolen Dreams.
Key Topics:
Why she decided to become an artist when everyone in her family felt she should become a writer.

Why she feels a strong connection to Magic 

How a premonition her grandmother had saved her life.

Who Suzanne Belperon was and why M.J. felt compelled to write about her.

The challenges of writing historical fiction, including the pressure to get the facts right when there is little source material to go on.
Buy The Jeweler of Stolen Dreams
Amazon: https://amzn.to/3PrGPNQ
Bookshop.org: https://bookshop.org/a/54587/9781957568287
Connect with M.J. Rose:
EMail: mailto:[email protected]
Website: https://www.mjrose.com/content/
Facebook: https://www.mjrose.com/content/
Twitter: https://twitter.com/MJRose
Instagram: https://www.instagram.com/mjroseauthor/
Goodreads: https://www.goodreads.com/author/show/69003.M_J_Rose
Connect with Mike
Website: https://uncorkingastory.com/
Youtube: https://www.youtube.com/channel/UCSvS4fuG3L1JMZeOyHvfk_g
Instagram: https://www.instagram.com/uncorkingastory/
TikTok: https://www.tiktok.com/@uncorkingastory
Twitter: https://twitter.com/uncorkingastory
Facebook: https://www.facebook.com/uncorkingastory
LinkedIn: https://www.linkedin.com/company/uncorking-a-story/