I like to tell people that I started Uncorking a Story as a way to give authors a platform for promoting their books, but the reality is that I had an ulterior motive behind starting the show—I wanted the opportunity to pick the brains of successful authors so that I could learn from them. As an author myself, what better way to learn from masters of the craft than having the chance to chat with them for an hour or so? Well, my worlds collided recently when I had the opportunity to interview Mark Thompson about his radio career and memoir, Don't Bump the Record Kid: My adventures with Mark and Brian. I mean, what better way to become a better podcaster than by having the chance to interview an inductee of the radio hall of fame?
Meet Mark Thompson: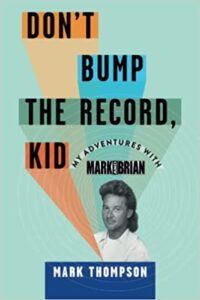 Mark is world-renowned radio host and one half of the infamous Mark and Brian, which was heard every morning for twenty-five years on the nationally syndicated Mark and Brian Show originating from KLOS Radio in LA. Mark joined me on Uncorking a Story to discuss his career and memoir Don't Bump the Record, Kid: My Adventures with Mark and Brian. 100% of the books proceeds will go to saving the lives of puppies and kittens in Southern California
Key Topics:
How the light from his radio brought Mark comfort during his childhood nights in Muscle Shoals, Alabama.

How his decision to leave home after high school and pursue a career in radio impacted the relationship Mark had with his father.

Mark's rise to fame in the radio industry.

Why, when his successful radio gig went from being a joy to a job, Mark decided to call it quits with his longtime partner.

The story behind the charity Mark is supporting with the book
Buy Don't Bump the Record Kid
Website: https://myadventureswithmarkandbrian.com/
Amazon: https://amzn.to/3GiDEWf
Connect with Mark:
Website: https://myadventureswithmarkandbrian.com/
TikTok: https://www.tiktok.com/@markandlyndapodcast
Connect with Mike
Website: https://uncorkingastory.com/
Youtube: https://www.youtube.com/channel/UCSvS4fuG3L1JMZeOyHvfk_g
Instagram: https://www.instagram.com/uncorkingastory/
Twitter: https://twitter.com/uncorkingastory
Facebook: https://www.facebook.com/uncorkingastory
LinkedIn: https://www.linkedin.com/company/uncorking-a-story/
If you like this episode, please share it with a friend. If you have not done so already, please rate and review Uncorking a Story on Apple Podcasts, or wherever you get your podcasts.