Met fans will recount the 1986 season the way some people might recount the day they got married. We had waited so long for a World Series title (maybe not as long as the Red Sox) and this team of misfits (substance abuse was rampant on that roster) pulled it together through talent and luck and won the series. My father took me and my twin brother Jimmy to many games that year and you know what I remember about those games? Leaving after the 7th inning. We'd stay for the stretch and then would leave the stadium to, "Beat the traffic back home." Traffic was my father's Kryptonite. 
Actually, there is another memory I have from that year—always having to wear a sportcoat to the games. One of my father's big accounts was Harry M. Stevens, a catering firm that supported Shea Stadium. As such, we always had privileges to go to The Diamond Club, which was an exclusive, jacket-required restaurant in the stadium. Jimmy and I bemoaned the fact that we couldn't be "just like the other kids" and wear shorts and tee shirts to the ballpark and dine on overpriced hot dogs. Looking back, dad just wanted us to have a nice experience and, truth be told, the food was really good. Years later I ran into Keith Hernandez in the club after his retirement—or at least a guy who looked exactly like Keith Hernandez. He asked me to help him move, but I turned him down (Seinfeld fans will get that one).
My father's birthday is just over a week before mine at the end of August and, back in the summer of 2001, I was struggling to think of a gift for him—he's notoriously hard to buy for. As I was sitting at my desk racking my brain as to what to by dad, my MasterCard colleague Bob Cramer walked by. He ran the MLB sponsorship and and idea hit me—I'll take dad to a Met game! So I hit Bob up for tickets but they weren't mine for the asking—they were reserved for customers. The irony of this wasn't lost on me because the reason Jimmy and I got to go to so many Mets games was because our dad ran sales for American Express. When I asked him about how he got such great seats, he'd tell us, "You two are my most important customers." So I went to the MLB website, picked a date in mid september that had the seats I wanted available, and bought four tickets to a game. Little did I know we'd all be witnesses to history, but I'm getting ahead of myself.
I wanted to make the gift extra special so I called the stadium and asked to be connected to the Diamond Club to make a reservation. The woman who picked up sounded like one of Marge Simpson's sisters in that she must have had intimate relationships with both Benson & Hedges. In a thick accent that betrayed the fact that she was born and bred in Queens, she told me that the club was for season ticket holders only. After giving her a sob story about how all I wanted to do was treat my father to dinner there to show how much I appreciated his taking me to the club as a kid, she acquiesced and said, "Enough with the sob story kid. I'll leave some passes for you at will call."
I was on cloud nine. I had applied a true Don Carlonism, "When faced with rejection, ask again but tell them a story and if that doesn't work, ask to speak with someone else." It's a much better idea than leaving after the seventh inning, but more on that in a moment.
He was overjoyed when he opened his gift and we decided that the four tickets would go to me and my father (obviously) and my two brothers Jimmy and Greg. It was going to be a Carlon men's night out! Unfortunately, Jimmy was busy, for reasons that I won't go into but which have since been identified and resolved (thankfully) and Greg couldn't make it for legitimate reasons. So Mom agreed to go and invited her dear friend Sr. Campbell to join. Sr. Campbell was a huge Mets fan and forgot more about the game than I'll ever learn. 
Time for the big reveal—the game I got tickets for was played on September 21, 2001—ten days after the horrific events of 9/11 put a hold on just about everything in our lives and certainly everything in/around the NY Metro area. Yes, it was the first MLB game in NY after the world changed forever. Rudy Giuliani, an avid Yankees fan, was present as were Liza Minelli and Diana Ross. It was a big deal, and by sheer luck we were going to be a part of it.
I had held off on telling my parents and the good Sister that we were going to eat at the Diamond Club that evening and surprised them with that fact day of so they could dress accordingly. That revelation tugged at my father's heart strings and I knew he appreciated it. But, apparently, times change.
I hadn't been to a Mets game in over ten years at that point. After getting our passes from the will call window, we took the special elevator up to the club and, upon walking in, I realized that everything was different. Not only were the men not wearing sportcoats or blazers like in the old days, some were wearing tank tops, Tony Soprano style. We were shown to a table so close to another table that we were practically touching elbows. When we asked for some menus, we were told that there weren't any—everything was buffet.
I started to sweat upon hearing these words. My father hates buffets, almost as much as he hates traffic! "All those people reaching in and touching all that food, no thank you!
So our dining experience was a bust, but it's the thought that matters, right? While writing these words another Don Carlonism is going through my head, "The road to hell is paved with good intentions."
So we go to our seats, and I tried to get as close to the ones in the Amex box, which was front row, first baseline directly across from the first baseman. I wasn't that lucky, but we were close—third row about a quarter into the outfield. There was a ceremony to commemorate the victims and heroes of 9/11 and let me tell you this, the roar after the national anthem was unlike any I'd ever heard. Which is ironic because, later in that game, there was a roar that beat it decibel-wise, although we weren't there to hear it.
In the bottom of the 8th inning, Atlanta was up 2-1 until Mets catcher Mike Piazza took to the plate with a man on first. He proceeded to rip a 94 mile an hour fastball over the fence in left field putting the Mets up 3-2, which wound up being the final score, and the four of us missed it, because we left after the 7th inning stretch to avoid the traffic on the way home.
The other night, an old friend of mine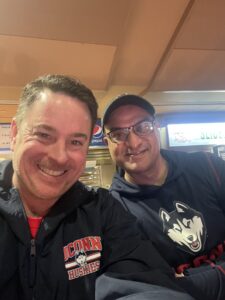 invited me to go to the Big East Tournament at Madison Square Garden. Sandeep and I met at UConn and lived together for a while at the Kappa Sigma house. We'd stayed in touch throughout the years and I love the fact that, almost thirty years after we met, we can still pick up like no time has passed. That's the way it is with most of my fraternity brothers. Anyway, Deep, as we call him, had an extra ticket and I graciously accepted it as my son, who now attends UConn, was also going to the game with his roommate. I agreed to drive them home since tipoff was at 9:30 pm and they wouldn't get back to Grand Central until well after midnight and that last train out of NY to CT is no fun (when you are sober). 
Now, in my old age, bedtime is somewhere between 10-11pm and our game started late as the first game ran long. By the second half, I was yawning and heard my father's voice inside my head, "You know, Michael, if you leave now you can avoid a long line at the garage where you parked…"
Deep, who I am now convinced is a mind reader, looked at me and says, "Dude, if you leave now, I will hunt you down and kill you."
Valuing both my friendship with Sandeep, whose extra ticket I was using afterall, and my life, I squashed my father's voice inside my head and stayed until the buzzer. UConn beat Seton Hall and advanced in the tournament, and my son, his roommate and I, arrived back in Connecticut shortly after 1am. At the end of the day, the difference between going to bed at 12:30 and 1:30 wasn't all that great, and we had a great time watching our beloved Huskies get the W (unfortunately, they couldn't repeat it the following night).
This was a big reminder to me to always live in the moment. Worrying about things like traffic doesn't have to overshadow a good time or, in my case, missing history in the making.