My twin brother and I are very close—so close in fact that we can finish each other's sentences. That said, I couldn't imagine writing a book with him, let alone a series of books. That's just one of the things that amazes me about sisters Lynne and Valerie Constantine, who are today's guests on Uncorking a Story.
Meet Liv Constantine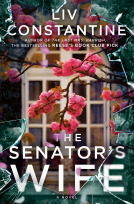 Liv Constantine is the pen name of sisters Lynne and Valerie Constantine who are Wall St. Journal and USA Today international bestselling authors with over one million copies sold worldwide. Their books have been praised by USA Today, The Sunday Times, The Washington Post, People Magazine, and Good Morning America, among many others. They joined me on Uncorking a Story to discuss their career and latest novel, The Senator's Wife.
Key Takeaways
The secrets to executing a great twist: The authors discuss the significance of a satisfying twist in a story and share advice on how to execute it effectively. Listeners will gain insights into creating compelling plot twists that captivate readers.

Collaboration in writing: Liv Constantine talks about the benefits of collaborating with a writing partner. They explain how working together enriches the story and characters, providing a different perspective and allowing for bouncing ideas off each other.

The magic of writing and the Greek connection: The authors reflect on the unique experience of writing and how certain books hold a special place in readers' hearts. They discuss their Greek heritage and how it influenced their writing, including the use of Greek names and themes in their work.

Divvying up responsibilities in co-writing: Liv Constantine shares their process of dividing responsibilities when co-writing. They explain how they split characters and chapters, while also ensuring that both authors are fully invested in every character. Listeners will gain insights into effective collaboration techniques and finding a workflow that works for them.

Editing and revising: The authors emphasize the importance of editing and revising in the writing process. They discuss their thorough editing process, which involves multiple rounds of edits and exchanging chapters for feedback. Listeners will learn the value of editing and refining their work before submitting it for publication.
Buy The Senator's Wife
Amazon: https://amzn.to/3YsenQJ
Bookshop.org: https://bookshop.org/a/54587/9780593599891
Connect With Liv
Website: https://livconstantine.com/
Facebook: https://www.facebook.com/LivConstantineAuthor/
Twitter: https://twitter.com/LivConstantine2
Instagram: https://www.instagram.com/livconstantine2/
YouTube: https://www.youtube.com/channel/UCtDqlH8AExvMr-eMNIjLBMQ
Connect with Mike
Website: https://uncorkingastory.com/
Youtube: https://www.youtube.com/channel/UCSvS4fuG3L1JMZeOyHvfk_g
Instagram: https://www.instagram.com/uncorkingastory/
TikTok: https://www.tiktok.com/@uncorkingastory
Twitter: https://twitter.com/uncorkingastory
Facebook: https://www.facebook.com/uncorkingastory
LinkedIn: https://www.linkedin.com/company/uncorking-a-story/
If you like this episode, please share it with a friend. If you have not done so already, please rate and review Uncorking a Story on Apple Podcasts, or wherever you get your podcasts