There is one thing that Lina Chern and I can wholeheartedly agree on and that's the importance of having fun during the writing process. If what you are writing isn't bringing you joy then, chances are, you aren't going to want to see it through. It took Lina a long time to find the joy in writing her debut novel, but when she did things changed for the better!
Meet Lina Chern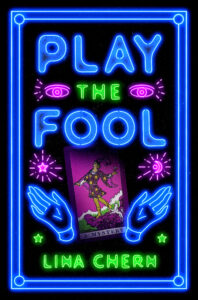 Lina Chern is an author who has had her crime fiction published in Mystery Weekly, The Marlboro Review, The Bellingham Review, Rhino, The Collagist, Black Fox Literary Magazine, and The Coil. She is a Pitch Wars alum and joined me on Uncorking a Story to talk about her debut novel, Play the Fool. 
Key Topics:
Why writing a novel isn't always a linear process.

The importance of getting some "wind in your sails" to keep your encouragement up.

Why the support of a partner is critical for parents looking to write a novel.

The role of fun in the writing process.

Why new authors should not expect to be good right off the bat.

How Lina manages writer's block.
Buy Play the Fool
Amazon: https://amzn.to/3jNQ7sj
Bookshop.org: https://bookshop.org/a/54587/9780593500668
Connect With Lina
Website: https://www.linachern.com/
Twitter: https://twitter.com/ChernLina
Instagram: https://www.instagram.com/linachernwrites/
LinkedIn: https://www.linkedin.com/in/lina-chern-162a4b8/
Goodreads: https://www.goodreads.com/author/show/16168786.Lina_Chern?from_search=true&from_srp=true
Connect with Mike
Website: https://uncorkingastory.com/
Youtube: https://www.youtube.com/channel/UCSvS4fuG3L1JMZeOyHvfk_g
Instagram: https://www.instagram.com/uncorkingastory/
TikTok: https://www.tiktok.com/@uncorkingastory
Twitter: https://twitter.com/uncorkingastory
Facebook: https://www.facebook.com/uncorkingastory
LinkedIn: https://www.linkedin.com/company/uncorking-a-story/
If you like this episode, please share it with a friend. If you have not done so already, please rate and review Uncorking a Story on Apple Podcasts, or wherever you get your podcasts.