Sometimes when I'm writing I get into what I call "The Zone." Time seems to stop and I'm only pulled out of it when my presence is missed, which is a nice way of saying someone is yelling at me to rejoin the family. Lauren Forsythe calls this catching a wave, and I'm totally stealing that metaphor.
Meet Lauren Forsythe: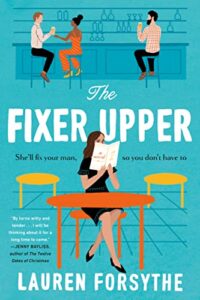 By day, Lauren is a content marketing manager, finding ways to get writing into people's eagerly waiting eye-holes, and by night…well it's the same thing, but with more wine. Lauren writes books about strong women, men with pretty eyelashes, and friends that save your life. She recently joined me on Uncorking a Story to discuss her career and latest book, the Fixer Upper. 
Key Topics:
The path to publishing her debut novel, including collaborating with her agent.

How the imbalance of labor she noticed between men and women working from home during the pandemic inspired the ideas behind her debut.

How being silly and joyful are great ways of feeding one's inner child and (fueling one's creativity).

Why we should stop wasting time on fear and doubt when it comes to writing and simply write what we love to read regardless of what other people tell us.
Buy The Fixer Upper
Amazon: https://amzn.to/3Qa5wgV
Bookshop.org: https://bookshop.org/a/54587/9780593422519
Connect with Lauren
Instagram: https://www.instagram.com/laurenforsythe_author/?hl=en
Twitter: https://twitter.com/laurenf_writer
Connect with Mike
Website: https://uncorkingastory.com/
Youtube: https://www.youtube.com/channel/UCSvS4fuG3L1JMZeOyHvfk_g
Instagram: https://www.instagram.com/uncorkingastory/
Twitter: https://twitter.com/uncorkingastory
Facebook: https://www.facebook.com/uncorkingastory
LinkedIn: https://www.linkedin.com/company/uncorking-a-story/
If you like this episode, please share it with a friend. If you have not done so already, please rate and review Uncorking a Story on Apple Podcasts, or wherever you get your podcasts.