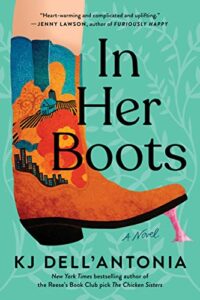 About KJ Dell'Antonia: KJ is the author of The Chicken Sisters, a New York Times bestseller, a Reese Witherspoon book club pick, and a timely, humorous exploration of the same themes she has long focused on in her journalism: the importance of finding joy in our families, the challenge of figuring out what makes us happy and the need to value the people in front of us more than the ones in our phones and laptops, every single time.
Her latest novel, In Her Boots, is about the gap between the adult we think we have become, the child our mother will always see, and our horrible fear that our mother is right. 
In this episode, Mike and KJ discuss: 
KJ's journey to publishing from fanfiction to nonfiction journalism to published fiction with a Reese Witherspoon book club pick. 
The challenges of finding out what makes us happy and then voicing it. 
Enjoying life now, not waiting for the nebulous future. 
Creating and inhabiting new worlds. 
Key Takeaways: 
Just because something is hard does not mean that it needs to be terrible too. 
We are conditioned to want stuff, but what we are really looking for in life is connection. 
We are all wearing masks in different aspects of our lives. The key is understanding who we are inside and recognizing that we are good as we are. 
If you're not going to sell yourself and your works, who is going to?
"We're all taught not to toot our own horns. But, hopefully, you think the thing that you're putting out in the world is the best thing you can and people want to share that and be part of it." – KJ Dell'Antonia
Buy In Her Boots
Amazon: https://amzn.to/3O4ldF5
Bookshop.org: https://bookshop.org/a/54587/9780593542460
Connect with KJ Dell'Antonia: 
Website: https://kjdellantonia.com/ 
Facebook: https://www.facebook.com/KJDellAntoniaAuthor 
Twitter: https://twitter.com/KJDellAntonia
Podcast: https://amwriting.substack.com/
Instagram: https://www.instagram.com/kjda/ 
Connect with Mike Carlon:
Website: https://uncorkingastory.com/
Youtube: https://www.youtube.com/channel/UCSvS4fuG3L1JMZeOyHvfk_g
Instagram: https://www.instagram.com/uncorkingastory/
Twitter: https://twitter.com/uncorkingastory
Facebook: https://www.facebook.com/uncorkingastory
LinkedIn: https://www.linkedin.com/company/uncorking-a-story/