Authors often tap into their past experiences and memories and plant them in our stories. Speaking from experiences, anecdotes that my parents shared with me decades ago will wind up in a story, not in a self-indulgent way, but more as a way of bringing some added realism to a plot point. Today's guest, Kimberly Behre Kenna, shared a beautiful story about how she integrated an experience her mother had while growing up into her latest novel, Jett Jamison and the Secret Storm.
Meet Kimberly Behre Kenna
Kimberly has worn many hats in her professional life including detective's assistant, breakfast cook, tae-kwon-do instructor, adolescent & family counselor and fifth grade teacher, her favorite job ever. As a writer, her poems and stories have been published in American Writers Review, Mused, Plumtree Tavern, and Rubbertop Review. Her full-length play, "Ana's Hummingbird," was given a staged reading at The Dramatists Guild in NYC. She is eer inspired by the power of play, thoughtful questions, and a life-long belief in nature's ability to heal and joined me on Uncorking a Story to talk about her life and latest novel, Jett Jamison and the Secret Storm. 
Key Themes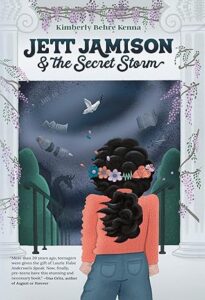 Kimberly's journey as an author: Kimberly shares that she never thought she would become a writer, highlighting the unexpected nature of her path. This emphasizes the importance of embracing new opportunities and being open to exploring different passions and talents.

The power of self-discovery and reflection: Kimberly talks about the process of self-discovery and reflection that led her to embrace a new role as an author. She also discusses how she turned to writing to process grief from childhood trauma. This emphasizes the importance of introspection and personal growth in finding fulfillment and purpose in life.

The influence of generational connections: Kimberly discusses how stories she heard from her mother as a child have shaped her writing. This highlights the significance of family connections and the impact they can have on our creative endeavors. It also shows how we, as writers, carry the seeds of ideas around with us and how important it is to water those seeds and give them sunlight—at some point, they may sprout into beautiful ideas.

Brave Girls:: Kimberly introduces her book collection, Brave Girls, which features unique characters with common themes. She  believes in the power of representation and wants to provide young readers with strong, relatable female characters. Through her stories, Kimberly aims to inspire and empower girls to embrace their own bravery, resilience, and unique qualities. 
Buy Jett Jamison and the Secret Storm
Amazon: https://amzn.to/48sMGvl
Bookshop.org: https://bookshop.org/a/54587/9781685132439
Connect With Kimberly
Website: https://www.kimberlybehrekenna.com/
Facebook: https://www.facebook.com/kimberlybehrekenna
Twitter: https://twitter.com/KimberlyBKenna
Instagram: https://www.instagram.com/kimberlybkenna/
Connect with Mike
Website: https://uncorkingastory.com/
Youtube: https://www.youtube.com/channel/UCSvS4fuG3L1JMZeOyHvfk_g
Instagram: https://www.instagram.com/uncorkingastory/
TikTok: https://www.tiktok.com/@uncorkingastory
Twitter: https://twitter.com/uncorkingastory
Facebook: https://www.facebook.com/uncorkingastory
LinkedIn: https://www.linkedin.com/company/uncorking-a-story/
If you like this episode, please share it with a friend. If you have not done so already, please rate and review Uncorking a Story on Apple Podcasts, or wherever you get your podcasts.