Way back in 1985, my sister Mia took my twin brother Jimmy and me to see Back to the Future. Shortly after leaving the theater, her car ran out of gas and my brother started balling his eyes out as he thought we'd be left for dead on the side of the road. Fortunately, we were only in Darien, Connecticut and a block away from a gas station so disaster was averted. I bring this up for two reasons; 1. Today's guest, Kelley Holland, had a similar experience while driving to her first job and 2. I simply can't resist taking a jab at my brother.
Meet Kelley Holland: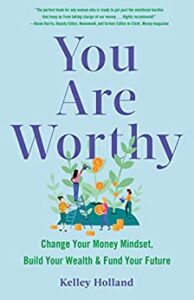 Kelley is the founder and CEO of Own Your Destiny, which provides financial coaching and empowerment programs to help women gain the confidence and knowledge they need to achieve well-being and live life on their terms. She blends her knowledge of finance with communications expertise developed over two decades as an award-winning business and personal finance journalist with The New York Times, BusinessWeek, and CNBC. She recently joined me on Uncorking a Story to discuss her book, You Are Worthy: Change Your Money Mindset, Build Your Wealth, and Fund Your Future.
Key Topics:
How the one-two punch of having a mother who worked for decades on women's empowerment and a father who was an English professor put her on the path of becoming a coach and writer focused on helping women gain financial freedom.

How her own experience literally running on fumes while driving to her first job taught her a valuable life lesson.

How Kelley helps women change their mindset around money and build the skills to take charge of their financial life.

Why Kelley doesn't refer to mistakes with regards to poor financial decisions and prefers the term hurdles.

Why it is important for her to donate a portion of her book sales to

CAMFED

, the campaign for female education. 
"You can do this. You know more than you think you do. You deserve this, and it's within your reach. Trust yourself, take your time, and you can get to a better place." — Kelley Holland
Buy You are Worthy
Amazon:https://amzn.to/3Mn4qhj
Bookshop.org: https://bookshop.org/a/54587/9781647422394
Connect with Kelley
Website: https://ownyourdestinycoaching.com/
Instagram:
Facebook: https://www.facebook.com/OYDFinanceCoach
Twitter: https://twitter.com/OYDFinanceCoach
LinkedIn: https://www.linkedin.com/company/own-your-destiny/
Learn more about CAMFED, the Campaign for Female Education:
Connect with Mike
Website: https://uncorkingastory.com/
Youtube: https://www.youtube.com/channel/UCSvS4fuG3L1JMZeOyHvfk_g
Instagram: https://www.instagram.com/uncorkingastory/
Twitter: https://twitter.com/uncorkingastory
Facebook: https://www.facebook.com/uncorkingastory
LinkedIn: https://www.linkedin.com/company/uncorking-a-story/
If you like this episode, please share it with a friend. If you have not done so already, please rate and review Uncorking a Story on Apple Podcasts, or wherever you get your podcasts.