Today's guest on Uncorking a Story, Karen Winnick, reminds me so much of my mother. Both are from Brooklyn and are animal lovers who would rather set a spider free than squish it. But unless my mother has been hiding the fact that she is a successful children's book author searching to teach children about compassion for animals through her writing, that's where the similarities may end.
Meet Karen Winnick: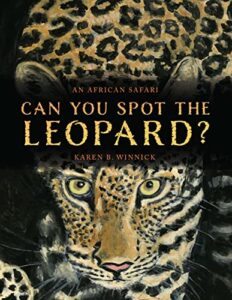 Karen is the author of more than a dozen picture books for children, most of which she illustrated. An animal lover, she serves on several boards devoted to the well-being of animals. She joins me today to talk about her life and latest book, Can You Spot the Leopard?: An African Safari, which was inspired by a real Safari Karen went on before the pandemic.
Key Topics:
How a friend's eccentric pair of shoes inspired her first attempt at writing an animated children's book entitled Happy Soles.

Why she wants to teach children compassion for animals through her picture books.

The importance of her work giving children a voice.

How she stayed connected to her passion of reading to children throughout the pandemic, and the new opportunities it brought her.

What we can learn from disabled animals.
Buy Can You Spot the Leopard? An African Safari: 
Amazon: https://amzn.to/3U0quRM
Bookshop.org: https://bookshop.org/a/54587/9781626349759
Connect with Karen:
Website: https://karenbwinnick.com/
Instagram: https://www.instagram.com/karenbwinnick/
Goodreads: https://www.goodreads.com/author/show/171244.Karen_B_Winnick
Connect with Mike
Website: https://uncorkingastory.com/
Youtube: https://www.youtube.com/channel/UCSvS4fuG3L1JMZeOyHvfk_g
Instagram: https://www.instagram.com/uncorkingastory/
Twitter: https://twitter.com/uncorkingastory
Facebook: https://www.facebook.com/uncorkingastory
LinkedIn: https://www.linkedin.com/company/uncorking-a-story/
If you like this episode, please share it with a friend. If you have not done so already, please rate and review Uncorking a Story on Apple Podcasts, or wherever you get your podcasts.