In this podcast episode, Mike interviews Karen White, a successful author of Southern women's fiction with a paranormal twist. Karen shares her journey as a writer and how she got started in the industry. She emphasizes the importance of reading and writing consistently to improve one's craft. Karen also talks about the influence of her fifth-grade teacher, Mrs. Anderson, who encouraged her to pursue writing. She discusses how she incorporates humor and history into her books and how her latest series, the Royal Street series, is different from her previous works. 
Karen also opens up about the challenges she faced last year with the passing of her father and her daughter's wedding. She shares how she copes with difficult times and relies on her supportive friends in the writing community. The conversation ends on a lighthearted note as Karen talks about her love for ghost stories and how it inspired some elements in her books.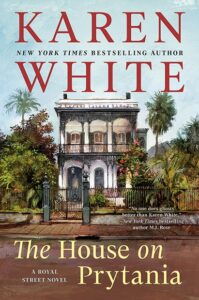 Meet Karen White
Karen is the New York Times and USA Today bestselling author of more than thirty-two novels, including the Tradd Street series, The Shop on Royal Street, The Last Night in London, Dreams of Falling, The Night the Lights Went Out, Flight Patterns, The Sound of Glass, A Long Time Gone, and The Time Between. She joins me today to discuss her latest book in the Royal Street Series, The House on Prytania. Welcome to uncorking a Story Karen.
Key Topics
00:00:00 Introduction To Karen White 
00:04:04 The Importance Of Reading And Thanking Teachers as A Writer.
00:06:26 The Importance Of Perseverance And Support as a Writer
00:09:54 Overview Of The Royal Street Series 
00:13:31 Importance Of Stepping Outside Of Your Writing Comfort Zone And Indulging In Exciting Ideas
00:17:54 Fond Memories Of Watching Dallas With Friends In London Before Streaming Era
00:20:26 Nostalgia For Old Forms Of Entertainment, Fond Memories Of 80s Music.
00:23:07 How to get in touch with Karen White
Buy The House on Prytania
Amazon: https://amzn.to/3H56Bol
Bookshop.org: https://bookshop.org/a/54587/9780593334621
Connect With Karen
Website:  https://www.karen-white.com/
Instagram: https://www.instagram.com/karenwhitewrite/
Facebook: https://www.facebook.com/karenwhiteauthor
Twitter: https://twitter.com/KarenWhiteWrite
TikToc: https://www.tiktok.com/@karenwhitewrite
Connect with Mike
Website: https://uncorkingastory.com/
Youtube: https://www.youtube.com/channel/UCSvS4fuG3L1JMZeOyHvfk_g
Instagram: https://www.instagram.com/uncorkingastory/
TikTok: https://www.tiktok.com/@uncorkingastory
Twitter: https://twitter.com/uncorkingastory
Facebook: https://www.facebook.com/uncorkingastory
LinkedIn: https://www.linkedin.com/company/uncorking-a-story/
If you like this episode, please share it with a friend. If you have not done so already, please rate and review Uncorking a Story on Apple Podcasts, or wherever you get your podcasts.