While many of us dream of being writers from a young age, the truth is, not all of us can do it early on in our lives and find that we have to defer that dream for another time. Jenny Jackson, whose debut novel Pineapple Street is quite possibly the most buzzed about book of the spring/summer isn't any different—she spent decades in publishing learning the craft by working with some of the world's most renowned authors before becoming an author herself.
Meet Jennifer Jenny Jackson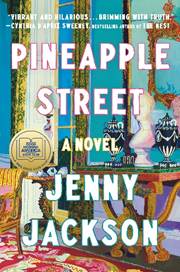 Jenny is a Vice President and Executive Editor at Alfred A. Knopf and joined me today to talk about her debut novel, Pineapple Street.
Key Topics
The power of turning personal experiences into stories: Jenny discusses how writers can embrace life lessons and use them as inspiration for their stories. 

The importance of perseverance in writing: Jenny shares advice from a bestselling author who emphasizes the need to keep going even when you get stuck. She encourages writers not to give up and to pick up their work again, even if it takes years to complete.

Navigating personal boundaries in fiction writing: Jenny discusses the challenge of balancing personal experiences and boundaries when writing fiction. She shares insights into how writers can draw inspiration from their own lives while still respecting their own privacy and the privacy of others.

The significance of archiving and valuing your own work: Jenny reflects on the importance of keeping track of your writing and having respect for your own work. 

The writer's revenge: Jenny shares an anecdote of how writers can put people who have treated you poorly into your books without them ever knowing.
Buy Pineapple Street
Amazon: https://amzn.to/3Kggp0p
Bookshop.org: https://bookshop.org/a/54587/9780593490693
Connect With Jenny
Website: 
Facebook:
Twitter: 
Instagram: https://www.instagram.com/jennyjacksonpineapple/
Connect with Mike
Website: https://uncorkingastory.com/
Youtube: https://www.youtube.com/channel/UCSvS4fuG3L1JMZeOyHvfk_g
Instagram: https://www.instagram.com/uncorkingastory/
TikTok: https://www.tiktok.com/@uncorkingastory
Twitter: https://twitter.com/uncorkingastory
Facebook: https://www.facebook.com/uncorkingastory
LinkedIn: https://www.linkedin.com/company/uncorking-a-story/
If you like this episode, please share it with a friend. If you have not done so already, please rate and review Uncorking a Story on Apple Podcasts, or wherever you get your podcasts.